This guest post was written by Bonnie O'Keefe at DC Action for Children.
Ever since the DC KIDS COUNT e-databook premiered last fall, DC Action knew the potential of this project was only just beginning to be realized. There are many important indicators of DC children's well-being we still want to visualize, and data updates we want to make as DC's neighborhoods continuously grow and change. The field of data visualization is also growing and changing, and we wanted to make sure our interactive e-databook uses all the best tools and techniques to stay on the cutting edge. Together with our partners at DataKind and our amazing Data Ambassador Nick McClellan, we put out a call for new and old pro-bono data scientists (aka "data heroes") to come together and help us plan our strategy, wrangle the data, and brainstorm visualizations. And they answered!
First in June, then in July, and again just last weekend, amazing pro-bono data scientists with wide ranging expertise in analytics, programming, and visualization gave up a day of their weekends to help shape the future of DC KIDS COUNT.
We kicked off last weekend's DataDive with a presentation by Alastair Dant, an award-winning interactive developer who recently joined the New York Times' team, and was gracious enough to come down from New York to join our event. Alastair gave the group some words of wisdom on what makes great data storytelling, and shared examples to illustrate some of the directions we could go. His examples showed the powerful possibilities of combining cutting-edge visualizations with old-fashioned journalistic insights and human context. The best interactive maps walked viewers through the experience, so they could get a sense of the important "headlines" and individual impact, while having the freedom to get into more detail and explore what interests them. Our map already does this with snapshots on child success, neighborhood assets, and distressed neighborhoods, but as we add more detail and depth, the story we're telling with all these indicators will become even more important.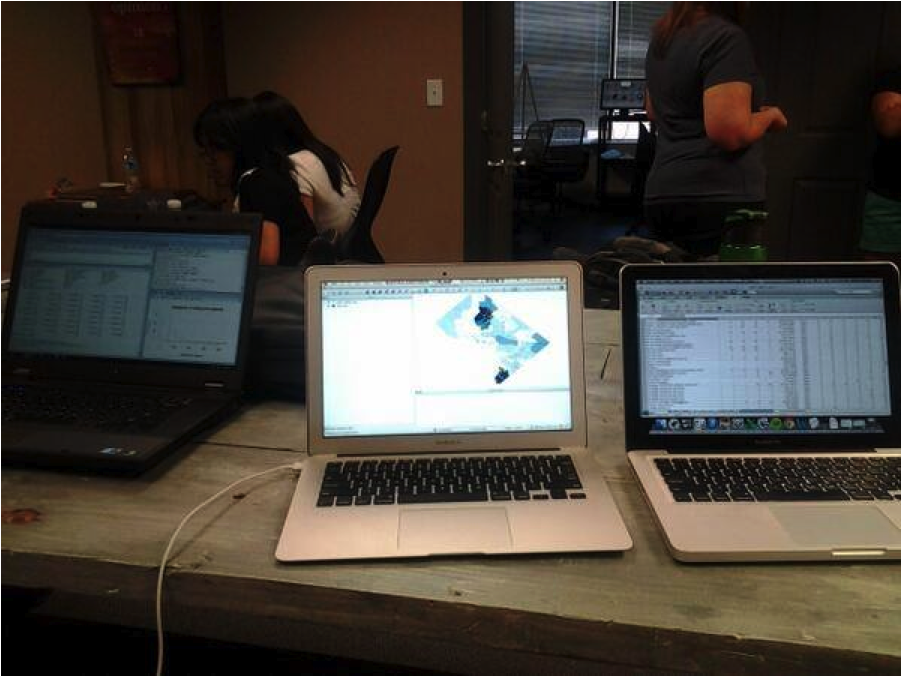 From there, we broke up into small groups to dive deeper into data on children's health, childcare, and school budgets. Each group came up with some great ideas, and put us on the path to what we're calling "DC KIDS COUNT 2.0." We are so grateful for our pro-bono data scientists and DataKind because they allow us to accomplish feats other organizations our size can barely comprehend. They're why we were recognized as a finalist for the Data Journalism Awards, alongside organizations that have full-time staffs of data visualization experts. We're not ready to reveal the results yet, but everyone involved is working hard to take our interactive neighborhood map to the next level. DC KIDS COUNT is evolving, and will continue to evolve, and we can't wait to see what it becomes! If you're interested in becoming a data hero, or contributing to DC's children in other ways, email info@dcaction.org!