Meet Danning Chen! She was a data scientist and product manager for years in Silicon Valley and Hong Kong, and now she's taking a gap year off of work and traveling around the world (and meeting up with fellow DataKinders). She's a member of our Scoping Squad and has been working with DataKind staff on supporting project partner Terre des Hommes use the Data Observation Toolkit. Check out Danning's DataKind journey below!
How did you first become involved with DataKind?
I don't actually remember how I first heard about DataKind, but I was on the email list to receive the newsletter, and I saw a call for scoping squad volunteers and it seemed really interesting. I was working as a data scientist and product manager for years in Silicon Valley and Hong Kong, and I was looking for opportunities to apply my professional and technical skills, and this seemed like a good opportunity to provide something unique.
I found DataKind to be a very welcoming experience, and I was really drawn to the question of how nonprofits can use these tools and processes that we in the technology industry take for granted. I wanted to learn how different nonprofits were, what they were thinking about or driving for change, and how the change evoked is measurable. How far are typical silicon valley views from a nonprofit? How can I push change?
What nontechnical skills did you find useful in your role at DataKind?
Interpersonal skills are extremely important to working at DataKind. I have had to improve my listening skills! When I first began volunteering, I knew very little about nonprofits or their work. I had to practice humble listening skills. I received loads of information and training from DataKind, and I learn best by asking my peers and project partners questions and absorbing what they had to say to familiarize myself as best as possible, which was really available in this role.
I will also say that I realized how my experience working as a product manager gave me transferable skills to apply to my time at DataKind. When you're the product/project manager you're the person at the center of all the commotion. People rely on you for information. It's comparable to being a spider in the center of a web. When you feel the web vibrate you need to be able to know which direction the movement came from and why? What's the best way to approach the mystery stuck on the web? 
How has working with DataKind influenced your career?
I'm in a career transition stage right now, not really sure what I want to do next. I'm taking a gap year off of work and solo traveling, and I'm in Nepal right now. It's been so great to stay engaged with the data science community during this year by continuing to volunteer for DataKind remotely, it's been a perfect fit for where I am now. I've also been able to visit other DataKinders in Southeast Asia! It's such a great community, and I'm so happy to have become a part of it.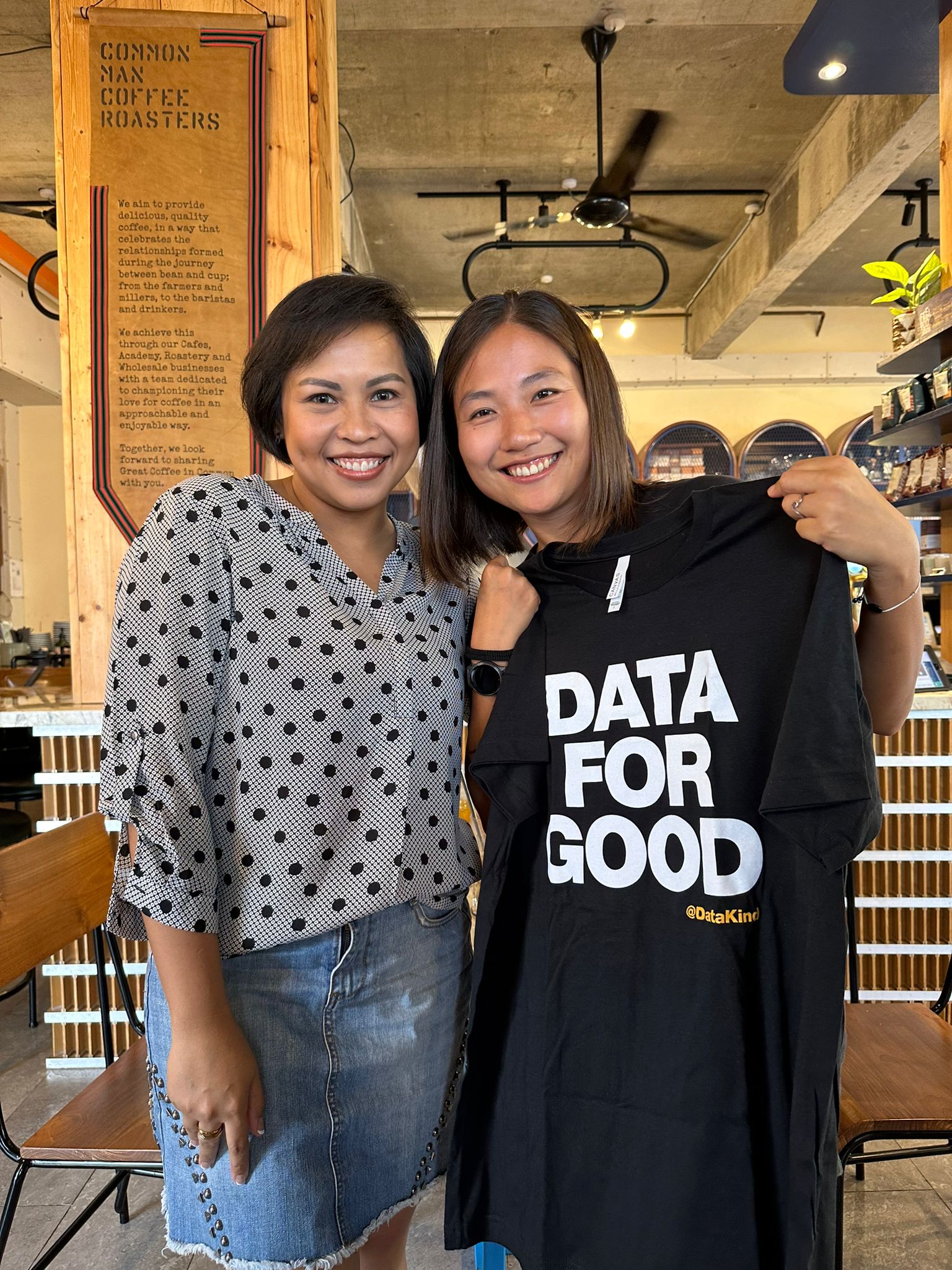 Danning met Ratri Maria, DataKind Singapore Chapter Leader, in Singapore. Ratri gave her the coveted DataKind #dataforgood t-shirt!
I also want to say that, during my time off, I've experienced many different volunteering opportunities remotely or directly in the field, and DataKind is the best-run organization I have worked with! It's awesome to see how a global organization like DataKind can gather resources and connections with both the tech and nonprofit worlds. 
What projects stood out to you? 
I've loved working on a project with community health data with a nonprofit partner in a developing country. The underlying data has been collected by frontline health workers when they visit children in the communities. Our focus is to improve the data quality that leads to the reliability of data tools, which can directly support the national and local teams in improving healthcare outcomes.
When I joined the project it was already funded, organized, and staffed by DataKind volunteers and DataKind employees. I got the chance to directly support and work with a team across three continents! I have enjoyed seeing how projects come from ideation to fruition into the end process and contributing directly. 
The project took an unexpected turn when we realized the data access approval could take an unpredictable amount of time with the health data authority in the country. But the project team was very adaptable throughout the whole process, and able to change direction from directly working with the data to teaching the technology remotely. We're hoping in the long run, the solution can continue to generate values for their health data system sustainably. 
Other than data science, what are you passionate about?
Traveling is my passion! A year of backpacking around the world has made me realize the essences of a happy life and how little material goods I need. Not going to be a digital nomad anytime soon, I'm hoping to explore the way of life that can continue feeding my curiosity and pragmatic idealism and see what meaningful difference I can make in other people's lives.
What advice would you give to someone considering volunteering for DataKind?
Volunteering for DataKind does require commitment and flexibility and is real work, but it's extremely rewarding. You get to really see what your work and skills could do for the community. I've learned so much from the other people I volunteer with.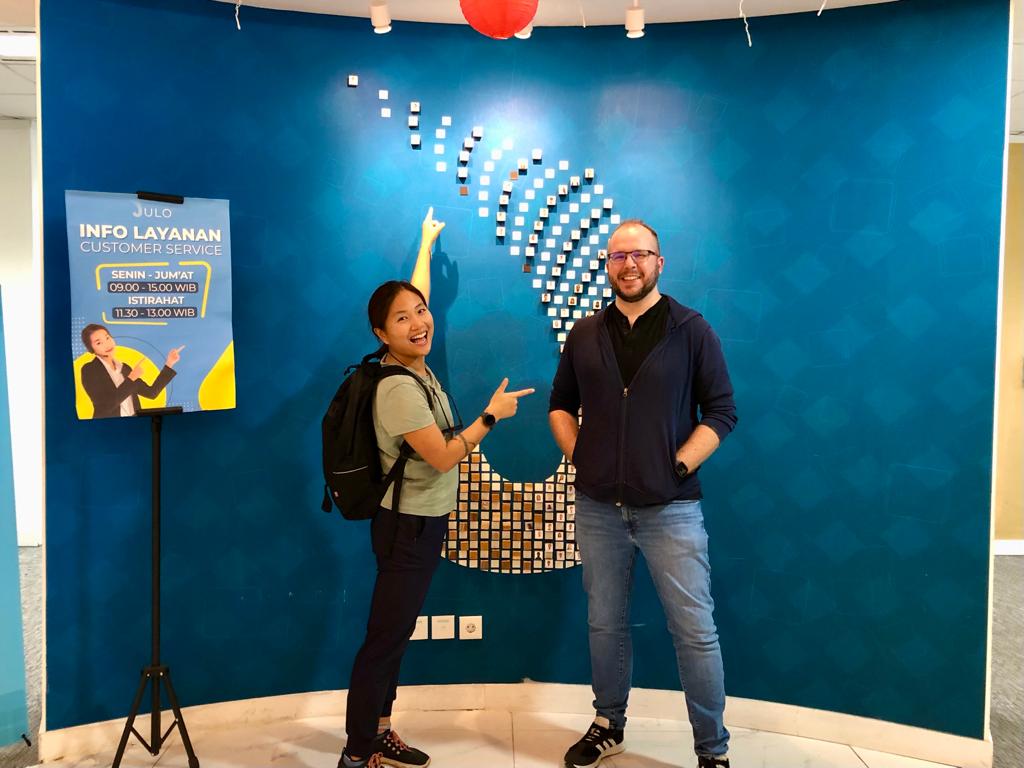 Danning met Martijn Wieriks, fellow DataKind Scoping Squad member, in Jakarta.
About Volunteer Spotlights
Our volunteers are the lifeblood of our mission. They've inspired people to use their skills in ways they never dreamed of. They've slayed misconceptions. They've shown organizations trying to make the world a more humane place how data science and AI can change the game. We're honored (and thrilled) to feature their stories in DataKind's Volunteer Spotlight series. Follow this series to learn about their impeccable skill sets, their work with our brilliant project partners, and what inspires them to give their time, resources, and energy to causes that matter. 
Join the DataKind movement.
Quick Links