What types of structures within our built environment are most exposed to climate risks? How can we identify them and measure their financial and economic values? Where and which types of structures need to be made energy-efficient to mitigate climate change? And what are the distributional impacts of tax policies and price changes on women and men?
These are some of the questions that are of great interest to the global financial community, and will be the focus of DataKind's upcoming DataDive® event in partnership with the International Monetary Fund (IMF), and supported by the Mastercard Center for Inclusive Growth and Teradata Cares.
The virtual event, to take place September 14-17, will bring together more than five hundred data scientists from all over the world to unearth powerful data insights alongside the IMF's climate and gender teams.
The IMF works to achieve sustainable growth and prosperity for all of its 190 member countries. It does so by supporting economic policies that promote financial stability and monetary cooperation, which are essential to increase productivity, job creation, and economic well-being.
"The IMF is thrilled to partner with DataKind as we build global datasets that will support climate adaptation and mitigation policies and gender-focused analysis on tax policies and price changes," says Bert Kroese, Chief Statistician and Data Officer for IMF. "The world is facing significant challenges, tapping into all accessible data will make a tremendous difference to address them, and we look forward to the new insights that this work can help bring about."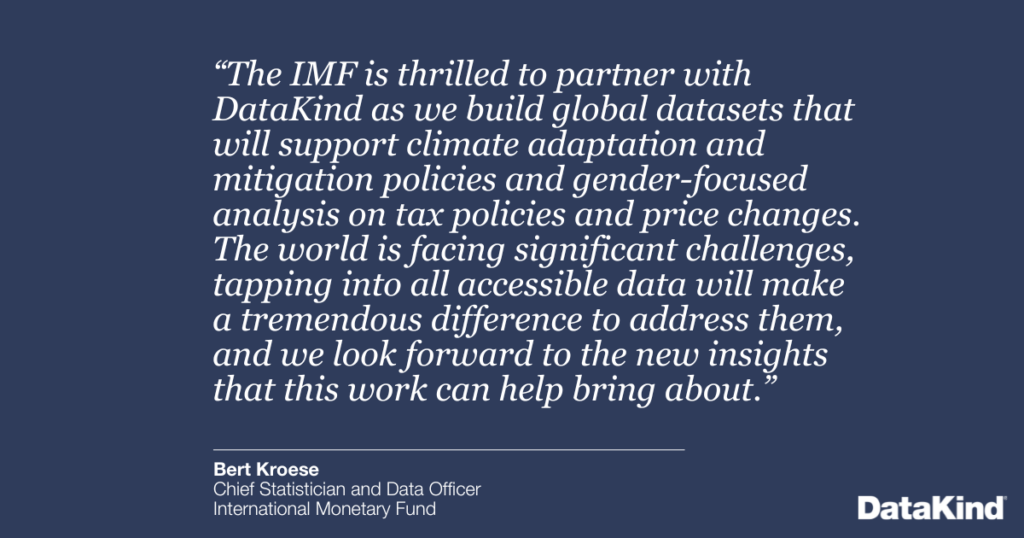 "Ensuring that we have clear and equitable access to the resources and assets both governments and individuals need, regardless of the consequences of climate change, is such an incredibly complex and important issue," says Lauren Woodman, DataKind CEO, "DataKind is honored to partner with the IMF to dig into these important and timely issues that are key to our mission of using data science to tackle big questions and amplify the impact of our partners."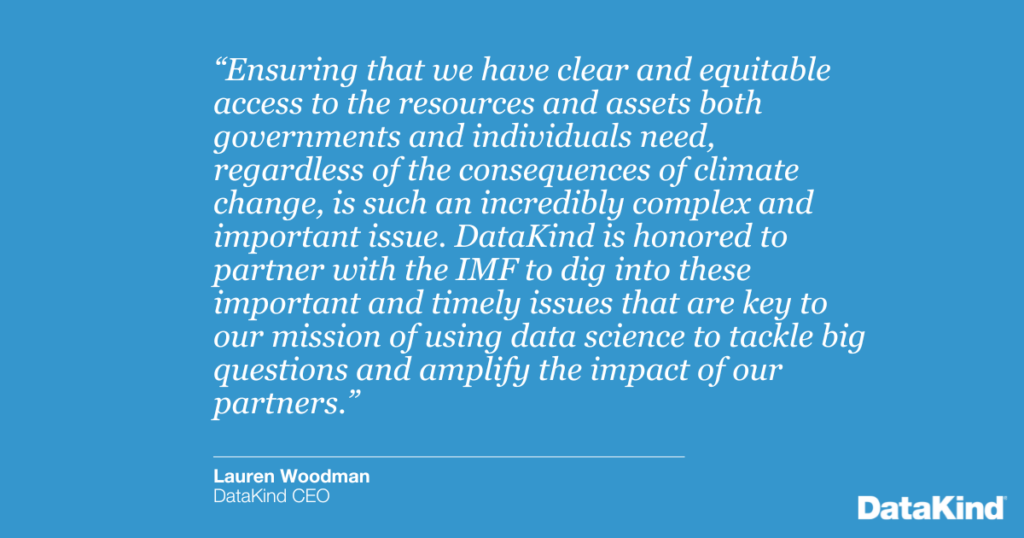 DataDive events are high energy, marathon-style happenings where mission-driven organizations work alongside teams of data scientists, developers, and designers to use data to gain insight into their programs, the communities they serve, and more. These events remain one of the best ways to experience the energy, intentionality, and impact our work has in real-time, showing organizations how data science and AI can advance missions and volunteers just how powerful their skills can be.
One of the projects at the event is to assist national statistical organizations in developing physical and transition risk indicators by creating a geo-located census of structures within our built environment. This will help quantify the social, economic, and environmental assets that fall in the path of climate hazards and provide key information about risk and cost-efficiency in mitigation options.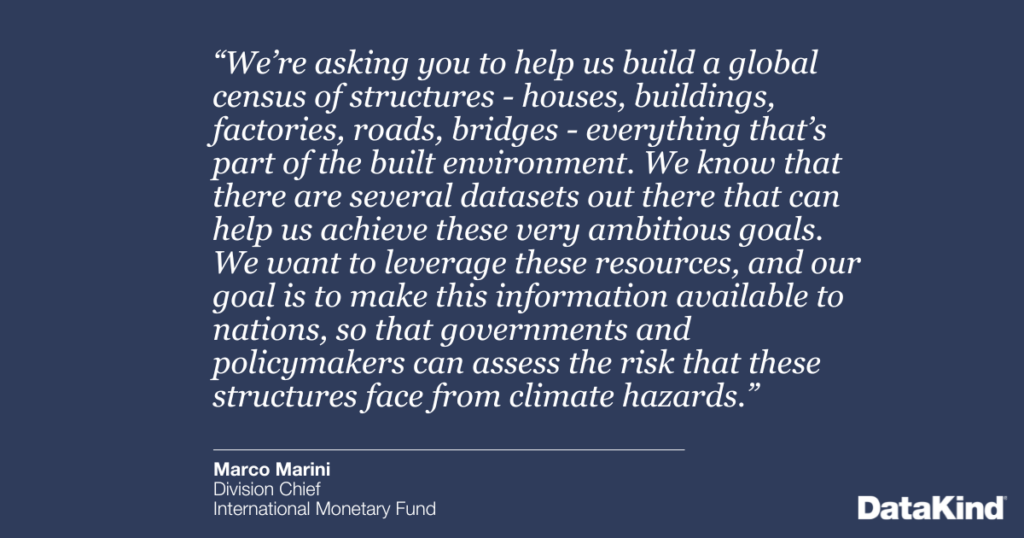 Another project will be related to gender and will dig into available household survey data with detailed expenditure information. Recognizing that women and men often have different spending and consumption patterns, there are significant gendered welfare implications from inflation and value-added taxes. Understanding these differences helps in designing gender-responsive policies.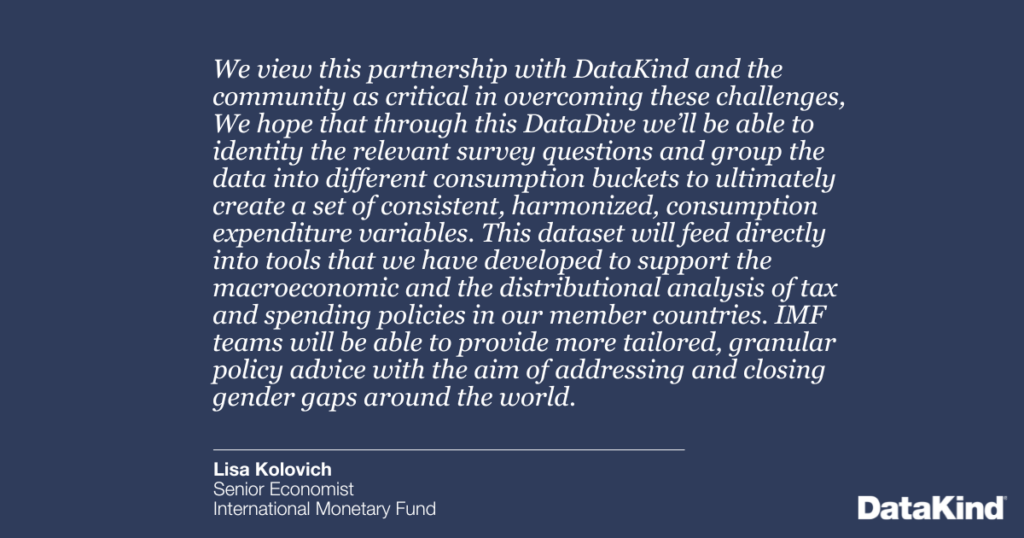 Whether you're a tenacious techie, humble humanitarian, future-looking funder, wide-ranging expert, or simply passionate about social impact, these events have something for everyone. No previous DataKind experience and no data science expertise are required.
Details are below!
Countdown to the DataDive Webinar
We hosted a pre-DataDive event webinar on Thursday, September 7, at 12pm ET / 6pm CT where we previewed the schedule, introduced our partners, and held a Q&A. You can view the presentation slides here and the webinar recording here.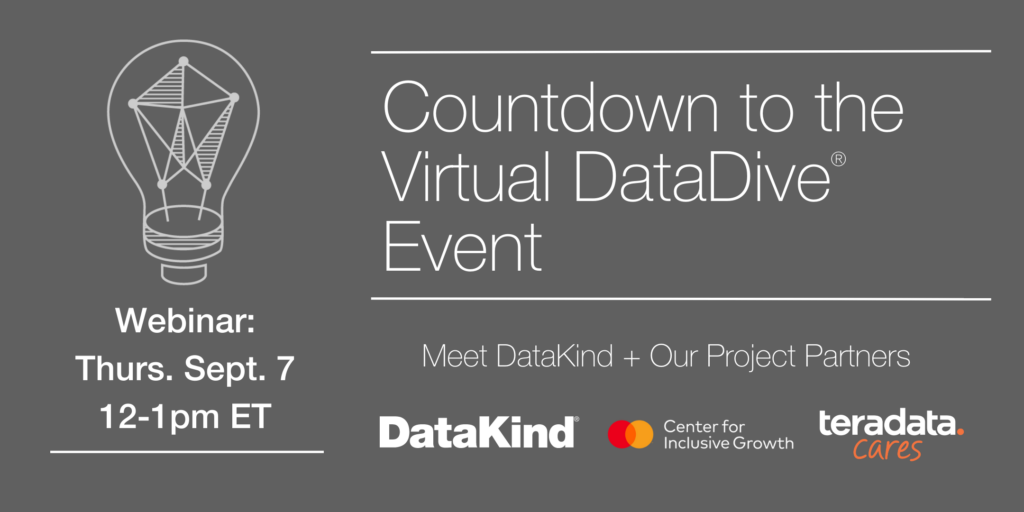 Four-Day Virtual DataDive Event
Thursday, September 14, 12 -1 pm ET / 6 – 7pm CT
DataDive kick off event where you learn about the projects, hear from the volunteer teams, and more.
Friday, September 15, 9am – 5pm ET / 3pm – 11pm CT
DataDive event work session for all projects. Teams of volunteers dive into our Data Science and AI for Good projects.
Saturday, September 16, 9am – 5pm ET / 3 – 11pm CT
DataDive event work session for all projects.
Sunday, September 17, 10am – 3pm ET / 4pm – 9pm CT
Final work session and wrap up.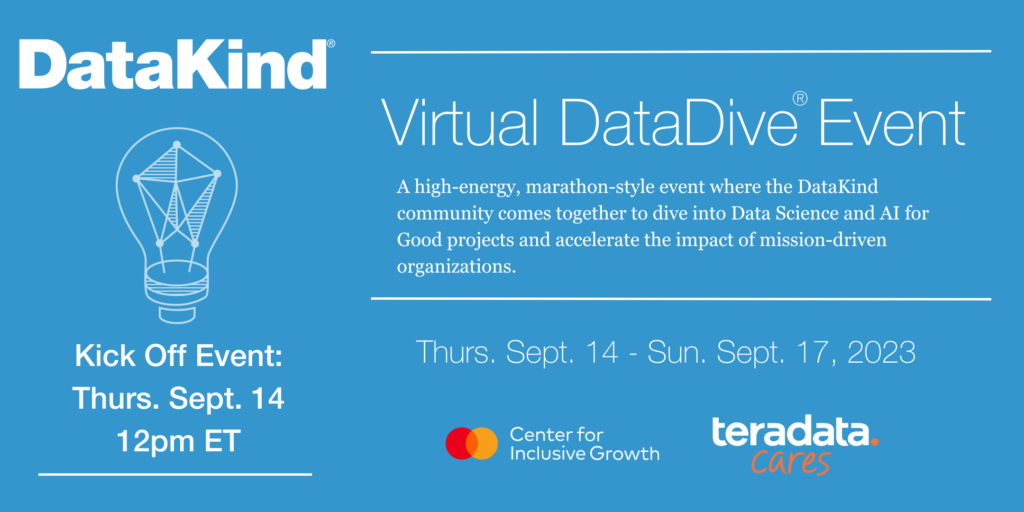 Taking Part in the Virtual DataDive Event
Interested in volunteering for the virtual DataDive event? Register here. Volunteers will be asked to identify what skills they're looking to share or learn. Again, no previous DataKind experience and no data science expertise are required.
Interested in joining us as a non-volunteer? We'd love to have you! Come to our Kick Off event on September 14 at 12pm ET. During the Kick Off event, you'll be able to meet the volunteer team leaders as they introduce the project partner organizations, their work, the project goals, and challenges they might encounter.
Interested in sponsoring a future DataKind event? We're always on the look out for partners and donors to support our projects and sponsor an event. Contact us at partners@datakind.org to learn more.
Check out some of our previous DataDives events – supporting humanitarian organizations via our in-person DataDive event in Nairobi, increasing food security with United Way and more, powering public data for communities with Save the Children, CARE, Oxfam, and others, supporting democratic freedoms with organizations like the Southern Poverty Law Center, and helping cities solve societal challenges using AI with Teach For America and the Trust for Public Land.
Be sure to follow us on Twitter, LinkedIn, and Facebook where we regularly share updates! If you have any questions, feel free to reach out to our Community Engagement team at community@datakind.org.
Header image courtesy of iStock/wildpixel.
Join the DataKind movement.
Quick Links