With two successful DataDives under its belt (read about the first and second), DataKind San Francisco hosted its third DataDive this August. Sponsored by AT&T, local volunteers partnered with five incredible organizations - United Way Bay Area (UWBA), Health Consumer Alliance (HCA), Conservation International (CI), Santa Clara County Wage Theft Coalition, and Santa Clara County Department of Housing and Urban Development (SCC HUD) - over the course of a weekend to help them leverage data science to advance their missions. Check out highlights from the weekend and see how you can get involved with DataKind San Francisco below!
Uncovering Wage Theft Nationwide to Stop it
Santa Clara County Wage Theft Coalition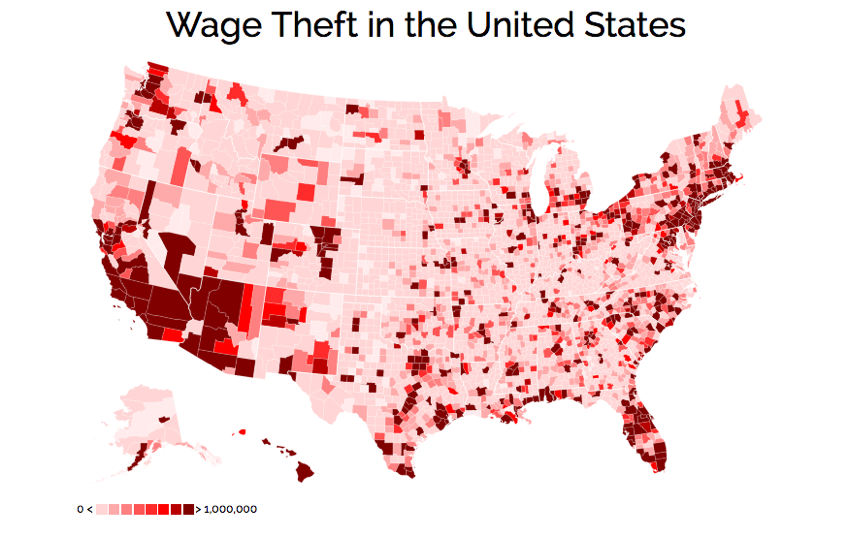 Santa Clara County Wage Theft Coalition is working to end wage theft, the nonpayment or underpayment of employees by an employer. Wage theft often affects people who can least afford it - undocumented workers or those living paycheck-to-paycheck - and feel they can not speak out about it. For those reasons, it is unclear how pervasive wage theft is. Led by Data Ambassadors Brian Spiering and Tracy Nance, volunteers worked with data from a variety of sources to build an interactive dashboard of wage theft throughout the United States. The tool is now being used by the Wage Theft Coalition to identify where efforts should be focused and the work started at the DataDive is being continued with support from Stanford University. The future goal is to build a data platform to share data and insights with wage theft advocates and government departments that can make a direct impact in reducing  wage theft.
Shortening the Pathway out of Homelessness
Santa Clara County Department of Housing and Urban Development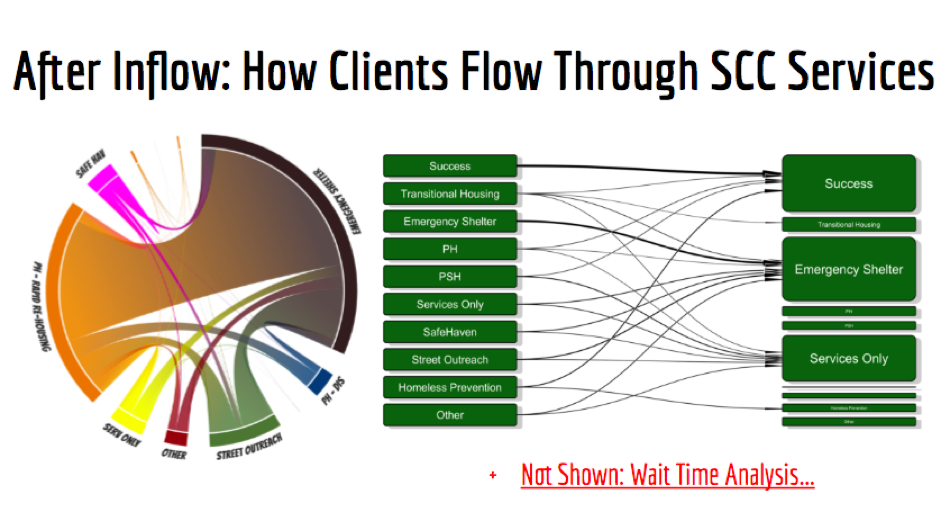 Santa Clara County Office of Housing and Urban Development (SCC HUD) works to make homelessness rare, brief, and nonrecurring. The SCC wanted to know if the seven years of past data they collected about homelessness in the county could help predict housing demand? How might likely homeless scenarios in the coming years help determine what future resources are necessary? Led by Data Ambassadors Christy Bergman and Jeremy Sterns, the team aimed to answer these questions by looking at the historical inflow of how people were coming into these programs and to identify trends in unmet demand for specific populations. For example, the team expanded the original dataset that showed how individuals were flowing through their various public programs to include a number of flags like chronically homeless, veteran, family, youth, and those with criminal justice involvement. These flags are giving Santa Clara County more nuanced information to better understand the specific needs of these groups and better track them over time. Ultimately the team's analyses will help inform the organization's decisions about housing units, monthly housing placement targets, services and funding so they can help people get back on their feet faster.
Expanding Access to Health Care by Understanding Health Needs
Health Consumer Alliance (HCA)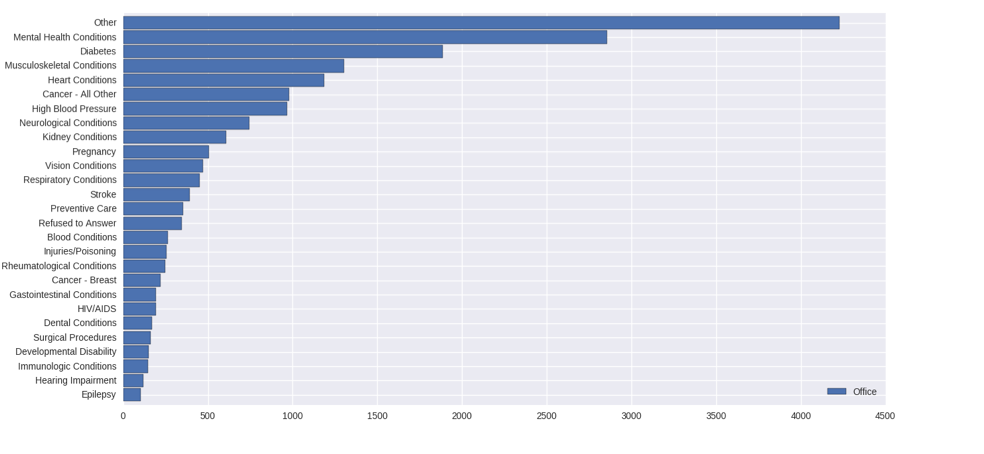 Health Consumer Alliance (HCA)  offers free assistance to help people who are struggling to get or maintain health coverage and resolve problems with their health plans. The team, led by Data Ambassadors Marion Azoulai and Roger Yang, dug into the data to help the organization better understand the needs of the people they serve, uncover patterns in the outcomes they see, and understand what kind of impact they're having. For example, as shown above, the team found that the top five health conditions people presented with included mental health issues, diabetes, musculoskeletal conditions, heart conditions, and various types of cancer. Some of the data may represent chronic health conditions found in many populations, but nonetheless should be looked into further to see if there are unique barriers associated with certain health conditions. This may also be an effect of age since many cases are among the elderly. In addition to its work to understand the organization's beneficiaries, the team also proposed recommendations to improve HCA's data collection and data warehousing practices to enhance future analyses.


Monitoring and Protecting Wildlife Worldwide
Conservation International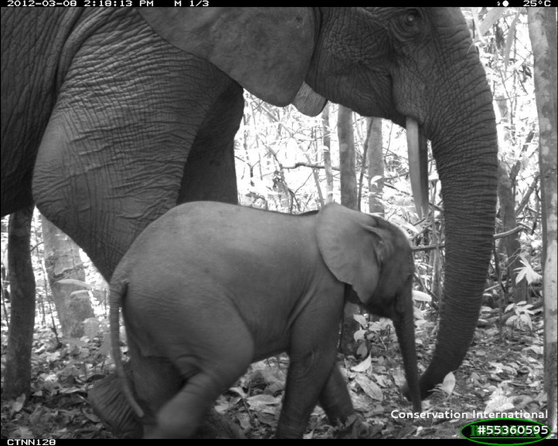 Conservation International (CI) believes that people need nature to thrive, which is why they are working to ensure a healthy productive planet for everyone. Launched in 2002, the Tropical Ecology Assessment and Monitoring (TEAM) Network is the first and largest global-scale conservation observation network on the planet - essentially an early warning system for life on Earth. It is now one of the most robust datasets on the health of tropical forests in the world, with more than 1,000 camera traps capturing almost 3 million images, roughly 8 million weather observations and 70,000 forest tree measurements. These measurements come from 17 protected areas (TEAM Sites) that serve as data collection and monitoring hubs. Their flagship analytical product, the Wildlife Picture Index, uses TEAM data to monitor the health and status of over 500 species populations - including elephants! - around the world (using the +2.6 million camera trap images plus 8 million climate measurements). This valuable tool addresses a critical conservation question by calculating "occupancy" (i.e. how many animals of a given species are in a given area) and trends over time (i.e. is the population decreasing, increasing or stable). Because the wildlife monitoring community depends on this resource to inform its work, CI wanted to explore how they can improve it to make sure these groups get the information they need to be most effective at protecting wildlife. Led by Data Ambassadors Sean Mandell and Erin Craig, the team ultimately created an interactive heat map that will allow land use managers, wildlife ecologists and other decision makers to drill down specific species at specific sites - see below.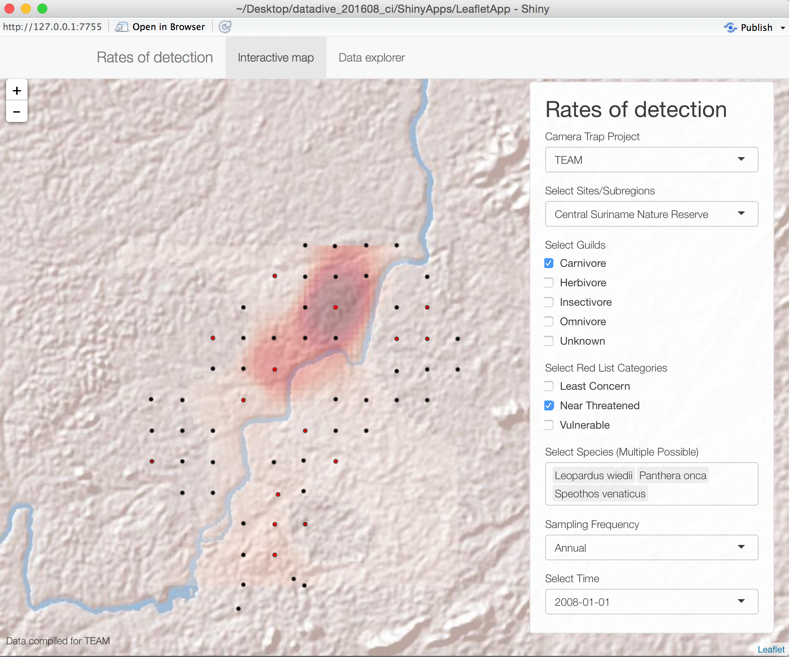 The team is continuing to work with Conservation International on this project. If you're interested in helping transform how data is leveraged for conservation efforts, contact Sean Mandell at Sean.Mandell1@gmail.com (mention CI in the subject!).
Keeping People on Track to Achieve Financial Success
United Way Bay Area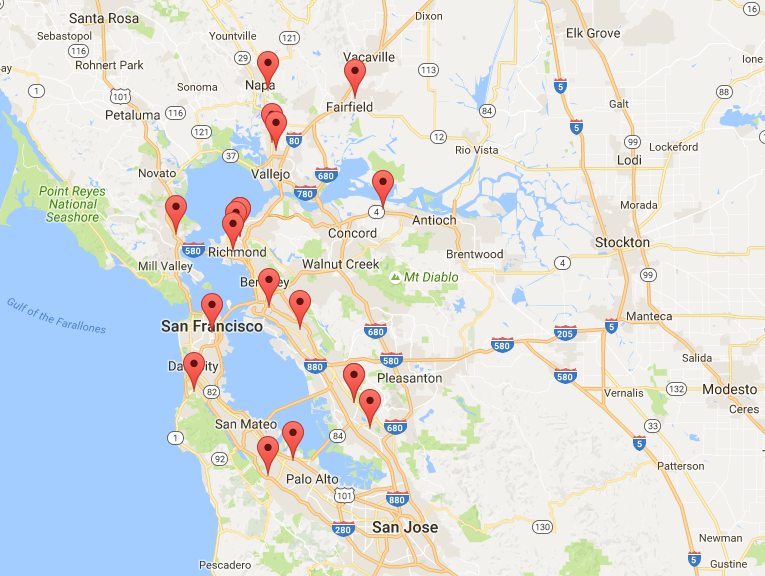 United Way Bay Area (UWBA) SparkPoint Program aims to help individuals and families build financially secure futures by offering an array of free services in one convenient location. United Way Bay Area supports SparkPoint Centers across communities with the highest poverty rates in the Bay Area (see above) and has served over 24,000 people since 2009. While it typically takes eight to ten months for SparkPoint clients to meet their goals, many drop out of the program before this point. UWBA wanted to understand what factors might be affecting client retention to help more individuals and families achieve their financial goals. The team explored how factors like a person's distance to a center, if a person speaks English, or types of services clients are seeking affected whether or not they successfully achieved their goals. For example, the team found there were higher rates of retention for clients looking for assistance with free tax prep, job training, and improving credit. They also discovered that, contrary to what some assumed, the income bracket of clients did not affect client retention rate. These findings are empowering SparkPoint to streamline their services and share best practices with diverse stakeholders, including more than 70 partner organizations and 13 centers city-wide.
Thanks Yous
Thanks to all of you that attended, DataKind San Francisco is three for three with another successful DataDive in the books!
Special thanks to AT&T for making this event possible with its generous sponsorship and Microsoft for donating the use of their Microsoft Reactor space. Finally, a huge thank you to our Data Ambassadors and volunteer teams that gave up their weekend to help five incredible project partners use data to improve the world.
Join Us
If this post made you just as excited about unleashing data for good as DataKind San Francisco is, we'd love to see you at the next event! Register on the DataKind San Francisco Bay Area Meetup to stay in the know and check out their Facebook page for updates. Share your memories from the weekend below!