We were delighted to see so many of you at our first NYC Meetup of 2016 with AT&T Aspire for a look at one of our recent DataCorps projects with iCouldBe, an online mentoring program. Thanks to everyone that attended and especially for your fantastic questions! Read on for a recap and check out the photo album to relive the memories.


Meet iCouldBe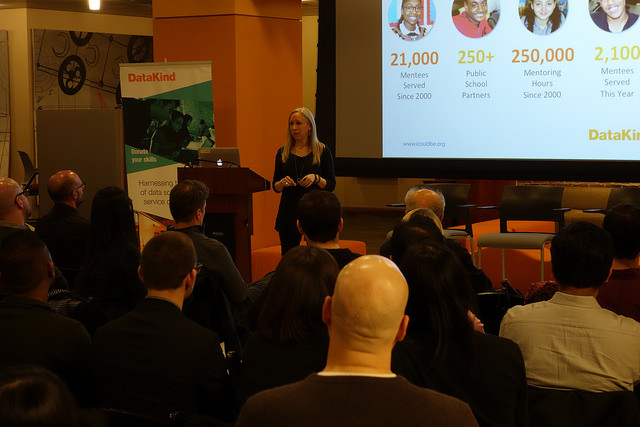 Wendy Siegelman of iCouldBe presents findings from their DataCorps project
iCouldBe's story began two years after Google opened their first office and five years before YouTube launched. In the middle of the Internet revolution, iCouldBe developed one of the earliest e-mentoring platforms designed to bring the power of mentoring to at-risk youth across the US. With 1.2 million youth dropping out of school each year, 16 million students in need of a mentor and high school students only receiving 10 minutes per year of guidance counseling, the US continues to face an educational crisis.
Since 2000, iCouldBe's e-mentoring program has served over 21,000 at-risk middle and high school students, empowering teens to stay in school, plan for future careers, and achieve in life. Students from public high schools across the U.S., Canada, and Mexico, select their own mentors and work on e-mentoring activities that focus on academic success strategies, career exploration, and post-secondary educational and career planning. 


Meet The Volunteer Team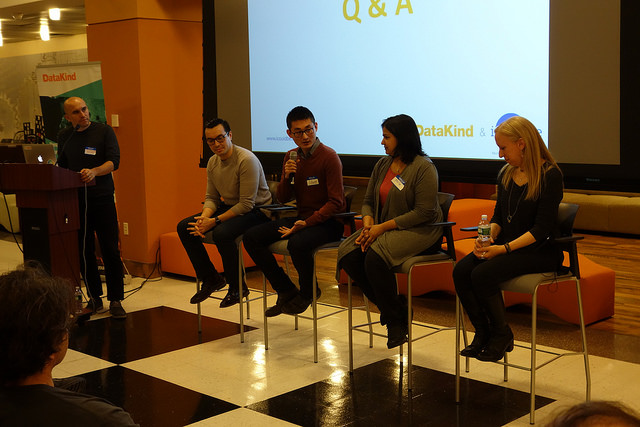 JeanCarlo Bonilla of DataKind facilitates Q&A with DataCorps volunteers Thomas Vincent, Matt Yin, Pooja Madan and Wendy Siegelman of iCouldBe
After attending a DataDive, iCouldBe began working with a team of DataCorps volunteers (Thomas Vincent, Pooja Madan, Matt Yin and Peter Fleischman) to analyze their 15 years worth of data, including 130,000 anonymous mentor-mentee conversations, to understand how to define successful mentorship interactions.
Wendy Siegelman, iCouldBe's Chief Operating Officer, presented on how this work will help the organization better serve students in need of mentoring and to keep more students in school. For example, the team defined clusters of students based on their engagement level in the program. This will help iCouldBe reengage students that are participating less by reaching out their teachers to intervene. They also found some interesting learnings using sentiment analysis, a technique used to understand the overall sentiment of a given text - in this case the mentors and mentees messages to each other. For example, seeing "negative" sentiment in mentor responses to mentees is not necessarily a bad thing. They may just be mirroring their mentees' language as they work through challenges together. These are just a few insights, but the team will soon be wrapping up the project, creating a tool for iCouldBe to use so they can explore their data further for others.
Thank You, AT&T!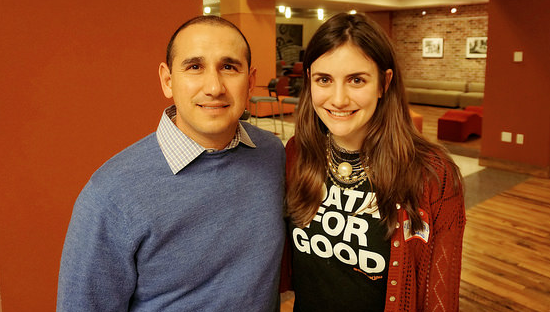 Randy Garza of AT&T and Magdalen Sangiolo of DataKind
AT&T and AT&T Aspire, the company's signature philanthropic initiative, support both DataKind and iCouldBe, so we are especially thankful that they are sponsoring this Meetup and providing the perfect space for a DataKind family reunion. 
Join Us
Interested in checking out other DataKind NYC events? Be sure to sign up for our Meetup group and watch out for upcoming Machine Eatable lunch discussions held in partnership with Microsoft Technology & Civic Engagement at Civic Hall.