From helping at-risk youth in the U.S. stay in school to increasing access to affordable electricity in rural India, see how data science can be applied to social challenges around the world. We're excited to present our newest DataCorps projects with iCouldBe and Simpa Networks.
DataCorps is our signature program that connects teams of hand-selected volunteer data scientists with social change organizations on long-term projects that leverage data science to maximize their impact.
Read on to learn how our volunteers will be partnering with these incredible organizations over the next 6 months.
 
iCouldBe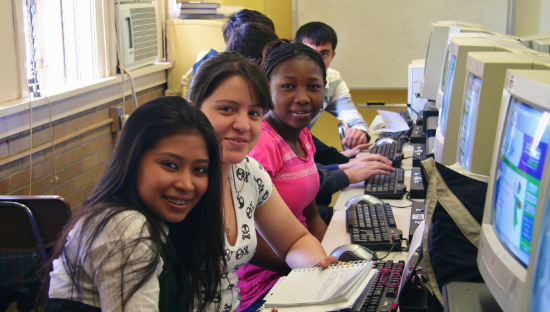 In the U.S., every nine seconds a student drops out of school. Graduation rates average 70% nationally, but only 50% for African American students and 47% for Latino students. E-mentoring is one form of support that can help inspire students about career opportunities and provide individualized attention and encouragement in their education path.
Since 2000, iCouldBe's e-mentoring program has served over 19,000 at-risk middle and high school students, empowering teens to stay in school, plan for future careers, and achieve in life. Students from public high schools across the U.S., Canada, and Mexico, select their own mentors and work on e-mentoring activities that focus on academic success strategies, career exploration, and post-secondary educational and career planning.
Building on their initial work with DataKind at our Nashville DataDive, iCouldBe would like to utilize their 15 years worth of data to understand how to define successful mentorship interactions. They hope to use the findings to improve their program, curriculum, training and matching process, to better serve students in need of mentoring and to keep more students in school.
Simpa Networks

Worldwide, approximately 1.6 billion people don't have access to electricity and another 1 billion have extremely unreliable access, leaving them dependent on kerosene lanterns and battery-powered flashlights for light. in many emerging markets, this same group earn less than $10/day, with up to 30% of their income allocated to inefficient and expensive means of accessing electricity. 
Simpa Networks is a technology company with a bold mission: to make modern energy simple, affordable, and accessible for everyone.  They've launched in India where their customers make a small initial down payment for a high-­quality solar cell system and then top up their accounts as needed in small user-­defined increments using a mobile phone. Each payment is applied toward the final purchase price of the system. Once fully paid, it unlocks permanently and produces energy for free. 
In a project financially underwritten by MasterCard, DataCorps volunteers will use Simpa Networks' historical data on customer payment behavior to predict which new applicants are likely to be a good fit for their model and able to successfully unlock the system. This will enable Simpa Networks to best serve their customers and better assess new customers to offer the most appropriate services and support to each.
More customers successfully making payments means more families and households with reliable access to electricity they wouldn't have had otherwise.
 
Learn More About DataCorps
Interested in seeing how your organization can use data science?
Read this introduction to data science and learn more about DataCorps.
Interested in volunteering your skills on a DataCorps team? 
Learn more about DataCorps and apply online. 
Many more updates to come over the coming months on both these projects, including details about the talented volunteers working on each team!