Data visualization is a key step in many of our projects. As our founder and executive director Jake Porway says in this SSIR piece on data storytelling, "the true power of data comes from conveying the 'so what' behind the numbers, inspiring people to probe new questions, and using it for rigorous statistical inquiry."
In addition to its general support of DataKind, the Tableau Foundation also generously grants DataKind a certain number of licenses to use Tableau software on their projects and our volunteers have used around the world for everything from helping organizations reach more children in need, understand homelessness or even fight crime.
Delving into Child Poverty Data
DataKind UK created an interactive visualization of child poverty as pictured above for the North East Child Poverty Commission in the North East UK. The Commission used this visualization for education, advocacy, and to inform policy as they work to improve the lives of poor children. In an article highlighting Tableau's role in the project, Dr. Deborah Harrison, Coordinator of the North East Child Poverty Commission, explained,
"DataKind and Tableau have taken a complex piece of data and turned it into something more user-friendly and meaningful. The solution makes it easier to see child poverty 'hotspots', for example where child poverty levels are particularly high or where they have increased over time. Our goal is for local authorities to use this tool to enhance their existing knowledge of local child poverty levels, helping them to target their responses quickly and accurately."
Improving Access to Education by Supporting Tutors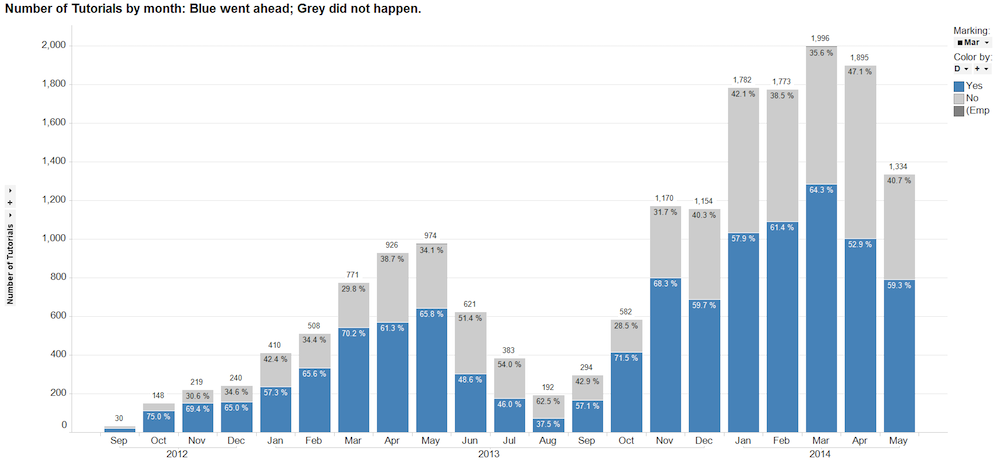 Using Tableau, DataKind UK mapped the engagement and milestones of their volunteer tutors to help The Access Project understand what makes for a successful pairing between tutor and student. The Access Project wants to adapt their processes to improve the volunteer experience and more effectively help motivated state school students access top universities.
Finding Children In Need
Shooting Star Chase, a UK-based children's hospice, wanted to understand which geographic areas were most in need of their children's hospice services. DataKind UK used Tableau to map public data to locate children suffering from life-limiting diseases, streamlining referral paths and ultimately saving up to £90,000 for children's hospices around the country.
Understanding Patterns in Homelessness
DataKind San Francisco joined forces with the Community Technology Alliance to explore data from the Monterey County homelessness assistance program. With visualizations built in Tableau, DataKind San Francisco explored the factors that correlate with a homeless family's successful transition from supported to stable housing. These insights will help Monterey County better allocate resources to support more families in overcoming homelessness.
Mapping Data to Fight Crime
DataKind Bangalore used Tableau to generate heat maps showing crime locations and plot trends from Bangalore Police Department data. Insights from this exploratory analysis, such as most crime hotspots in the city have empty space adjoining them, could guide future deployment of policemen and thus reduce crime in the city.


Share Your Examples
What great data visualizations have you seen being leveraged for social good? Share your links in the comments. If you're in the New York area, learn more and do good by attending the upcoming Tableau software user group meeting September 19th that will generate donations for the Community Foodbank of New Jersey or find a DataKind meetup near you!