Today's solar eclipse isn't the only bit of global news going on - it's also the day five of our six Chapters turn three! We are just as awestruck at all they've achieved. In August 2014, we launched five new Chapters in DC, San Francisco, Bangalore, Singapore and Dublin to join DataKind UK that had launched the year prior. Since then, they have recruited thousands of community members and supported organizations large and small, furthering DataKind's mission around the world.  
Let's take a quick look back:
Year One - Around The World in Six DataDives (Aug 2014 - Aug 2015)
Within six months of launching, all six Chapters hit the ground running by each hosting a DataDive in their local community. From DC to Dublin, from Leeds to Bangalore, from San Francisco to Singapore, hundreds of you around the world lent your expertise in six DataDives worldwide to fight global warming, stamp out corruption in Nigeria, address inequalities in Leeds and San Francisco, treat malnourished children in South Sudan, support civic engagement in Bangalore and much much more.
Year Two - Building & Sharing Practice (Aug 2015 - Aug 2016)
After building such strong communities, Chapters began taking on new challenges. DataKind Bangalore went beyond weekend DataDives to take on long-term DataCorps projects, DataKind DC began a long-term partnership with American Red Cross to predict and prevent home fires across the U.S. and DataKind Singapore shared its work onstage at the first ever Strata + Hadoop World Singapore.
Year Three - Innovation and Recognition (Aug 2016-Present)
In their third year, Chapters show no signs of slowing. DataKind UK has been developing a framework to help nonprofits understand their organization's level of data maturity so they can do even more. DataKind San Francisco, with its over 2000 Meetup members, engages Core Volunteers to execute its DataDives. True to their trailblazing ways, DataKind Dublin's most recent DataDive caught the eye of the newly appointed Taoiseach (the Irish Prime Minister) Leo Varadkar and Minister for Data Protection Dara Murphy - both of whom attended to learn more about the potential for data science to be used for good. 
In short, our Chapters are amazing and we can't wait to see what year four will bring (or year five for DataKind UK!).  And it's all thanks to the amazing people who take the time to make it happen by lending their best talents to their communities.  Chapter Leaders, this blog's for all of you! Thank you for donating your time to building DataKind's global community and expanding our work around the world.
Get Involved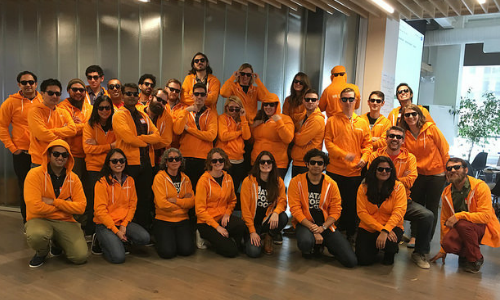 DataKind staff and Chapter Leaders at the 2016 Chapter Summit, testing out fancy eyewear ahead of the eclipse.
If you're located in a DK location, be sure to sign up for your local Meetup group to get involved!