Our first DataCorps project launched!
This is just incredible. After months of hard work, collaboration, and late nights and weekends spent hacking on government datasets and unruly Javascript, our very first DataCorps team, Team Awesome, has launched their amazing interactive tool for assessing child wellbeing in DC along with DC Action for Children. This tool will allow child advocates, policymakers, and curious citizens to assess the ways in which neighborhood and place affect the health, security, and opportunity of children in the district. It signals a major accomplishment for our team of pro bono data scientists, a huge step forward for non-profits using data and technology to serve their mission, and a huge gain for the population of DC.
But we're getting ahead of ourselves. We want to tell you the story of how this all happened, because it's just as impressive as the results.
Seven months ago, DC Action for Children (led by the visionary HyeSook Chung and Gwen Rubenstein) attended our DC DataDive with a simple question: Could they build visualizations of traditional child wellbeing data in DC as part of the KIDS COUNT program, a nationwide program for assessing child wellbeing. Such a tool would be a huge step up from the traditional PDFs that KIDS COUNT programs typically produce but would be outside of the expertise or budget of a small non-profit.
Many of you are familiar with the prototype that a band of pro bono data scientists headed up by the inimitable Sisi Wei produced that weekend. In a mere 24 hours, they had wrangled data in a multitude of forms from government agencies, advocacy groups, and DC Action's own databases and streamlined them into an interactive map. The results were astounding, and kicked off an even more impressive effort. Sisi Wei, Emily Chow, Max Richman, Brandon Behlendorf, Will Durbin, Jason Hoekstra, Andy Hull, Nick McClellan, Alycia Usher Perez, Josh Wenk, and Jerzy Wieczorek teamed with DC Action for Children to continue this effort beyond the weekend. With Sisi leading the team as Data Ambassador, this group of incredible volunteers took time out of their busy lives to plan meetups, work closely with DC Action for Children, have weekend and nighttime events, and grapple with data and code until they built a tool that DC Action could use to assess the effects of place on children in DC.
Just last month, they unveiled this tool to a packed house of child advocates, supporters of DC Action, and the Mayor of DC himself. I am not exaggerating when I say there were "oohs" and "aahs" in the crowd. The tool marries the ability to explore the data with DC Action's insightful analysis so that any advocate, supporter, or curious citizen can use it.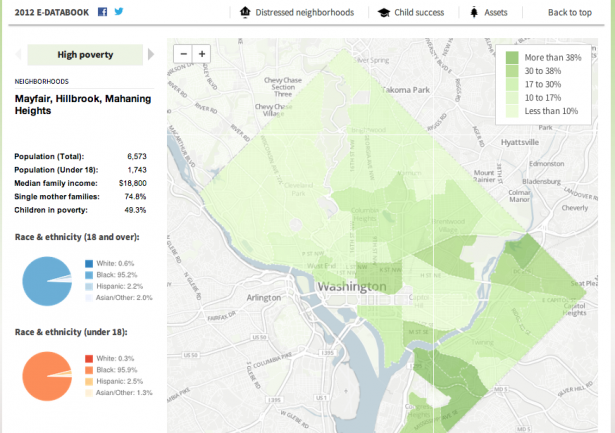 We could go on and on about this incredible achievement but we'll simply say that this project was a milestone in so many ways. This was the first long term project our DataCorps has completed and we are overwhelmed with how well it went. It's also a sign of how visionary non-profits like DC Action for Children are rethinking what it means to use data and technology, and they are leading the way for other KIDS COUNT programs with their example. We're also eternally grateful to DC Action for redefining what it means to collaborate by taking on a pro bono project with us and we can confidently say this effort would not have succeeded without their undying commitment. Through weekends spent with our team, weekly calls about the project, and their generous donations of food, ideas, and virtual hugs, DC Action supported this project to the very end. Lastly, this is a milestone for technology for the greater good. The work Team Awesome did was built on common tools like MapBox and is open source for other non-profits to use as well. This project may well lead to a general KIDS COUNT tool for any city and state across the nation doing this kind of work.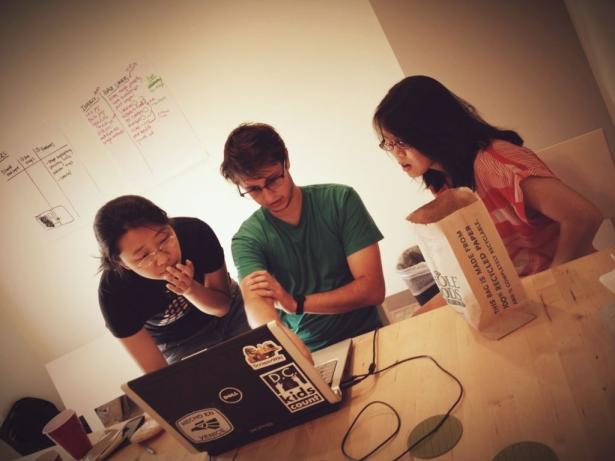 You'll be hearing far more about Team Awesome from us and look out for other great work that they're doing with DataKind and elsewhere. We couldn't be more proud of our Data Heroes on the team and at DC Action for Children and we're so excited to be taking the first steps to a world made better through data.