"Children are deeply affected, in all aspects of their lives, by the conditions in their immediate surroundings," writes HyeSook Chung, Executive Director of DC Action for Children.  "How does our nation's capital – one of the most affluent, educated and wealthy cities in the nation – have one of the worst child poverty rates?"  
This burning question was what first brought DC Action for Children to DataKind and so began a beautiful friendship that just recently culminated in the launch of DC KIDS COUNT Data Tools 2.0.
Our story begins at the March 2012 DataDive.  As a participant in the national KIDS COUNT program, DC Action for Children wanted help going beyond traditional PDF reports to build a visualization of child well-being in DC.  Within 24 hours, their team of stellar volunteers had wrangled data from government agencies, advocacy groups and DC Action's own databases to create a working prototype that mapped DC child well-being data like never before.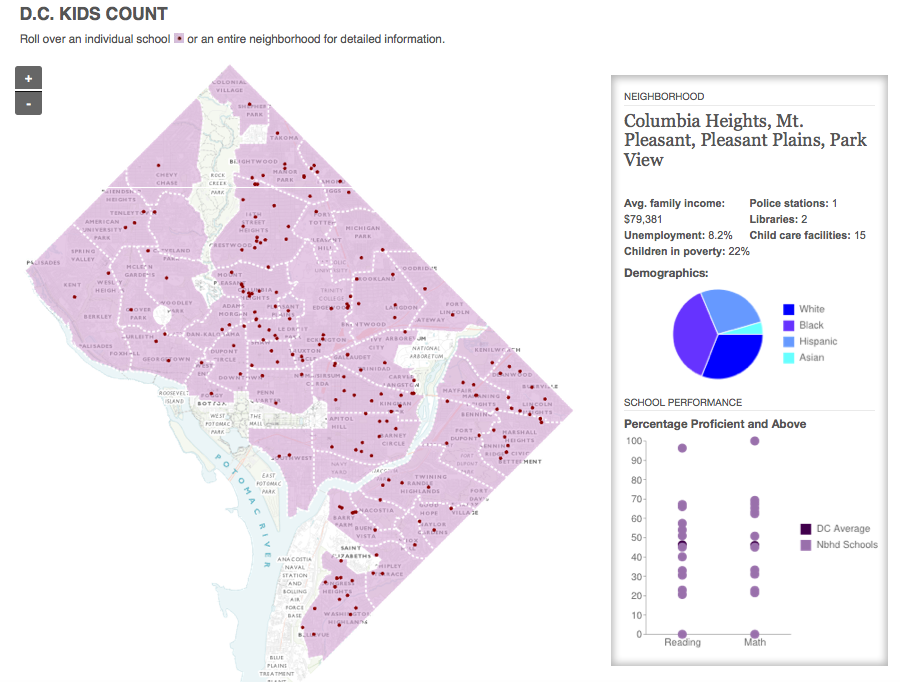 But this was only the beginning.  With this proof of concept in hand, DC Action for Children then became our first DataCorps partner.  Their dedicated team of volunteers continued to work over the next few months to create the 2012 e-Databook, unveiling it at a presentation in September 2012 to an audience of child advocates, supporters of DC Action, and even the Mayor of DC himself!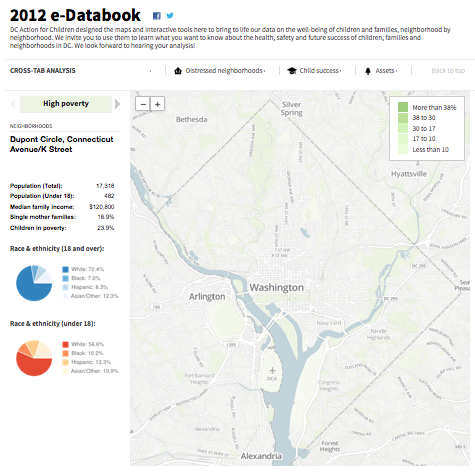 The crowd went wild - the 2012 e-DataBook was truly a conversation starter. This powerful tool visualized neighborhood-level data and gave both parents and policy makers alike a way to explore the complex factors that affect child well-being in DC.  It was also of interest to the other KIDS COUNT programs across the U.S. who wondered if they could create similar visualizations for their own cities. 
Fast forward to last week, when DC Action for Children celebrated their second DataCorps' team's completion of DC KIDS COUNT Data Tools 2.0!
This update to the 2012 e-Databook includes new design elements with an interactive graph in the lower right as well as "automated data collection and open source visualizations of dozens of D.C. data layers," volunteer Nick McClellan explains.  The team also made the source code available on GitHub, which would allow KIDS COUNT programs or other nonprofits outside DC to potentially apply the tool in their own cities.  
"What the neighborhood maps showed us was that the success of far too many DC children is predetermined by their ZIP Code – and too many children lack access to resources needed to thrive," explains HyeSook Chung.  "We hope the DC KIDS COUNT Data Tool 2.0 ignites thoughtful conversations during this budget season to ensure that resources are both sufficiently, and effectively, allocated to address the needs of children."
At DataKind, we always strive to build long-term relationships with our partner organizations.  DC KIDS COUNT Data Tool 2.0 represents hundreds of hours of work and collaboration between DC Action for Children and their many talented DataKind volunteers.  We give a HUGE thanks to all the volunteers that used their time and talent so DC Action for Children can now leverage data science to ensure all young people in DC have the resources and support they need to thrive.
To read more about DC KIDS COUNT Data Tools 2.0, check out DC Action for Children's blog and follow DC Action for Children on Twitter for the latest updates!