As DataKind's first Chapter, we are used to trailblazing so it was no surprise that our October DataDive at the Royal Statistical Society was a weekend full of DataKind firsts!  
For this special DataDive, Citizens Advice Bureau, a national charity that provides free advice and information on civil matters to the public, opened up its vaults and shared its bullions of data with two other deserving causes: St Mungo's Broadway and the North East Child Poverty Commission. We went beyond simply helping charities understand their own data to helping organisations tap into another charity's rich and complex data to take their data projects to a whole new level! It's not often we get to facilitate this kind of data sharing between charities so we were excited to see what it would lead to.
St Mungo's Broadway, a charity that helps people to recover from the issues that lead to homelessness, linked up their data with Citizens Advice data. They looked at what kinds of issues people went to Citizens Advice for help with before they ended up homeless in St Mungo's system with the hopes of potentially identifying factors that lead to homelessness. "It opened our eyes to what is possible. We are full of ideas of what to do in the future. We're hoping Citizens Advice will keep working with us to better understand some of the early insights from the DataDive" said St Mungo's Broadway.
The North East Child Poverty Commission sought a more geographically granular understanding of child poverty in their region. The volunteers working on this project struck gold and achieved another DataKind first – reusing the code from a previous DataKind project with DC Action for Children to map child poverty in Washington DC. Leveraging the work of previous DataKind volunteers saved huge amounts of time and effort and the resulting interactive map thrilled the Commission.

Yet another first - the Citizens Advice team continued work on a project they actually started at our previous June DataDive to better understand how people access different kinds of advice through different channels. The building blocks for an internal dashboard were put in place and the project is now moving full steam ahead powered by DataKind UK volunteers!
And guess who we brought in to feed the data-for-good masses? Food for Good! They are an ethical catering service using left over produce from small London markets to serve up delicious and healthy nourishment. We can't recommend them highly enough!
Thank you to the Royal Statistical Society for hosting us and encouraging their members to attend the DataDive. Read what they thought about the event here.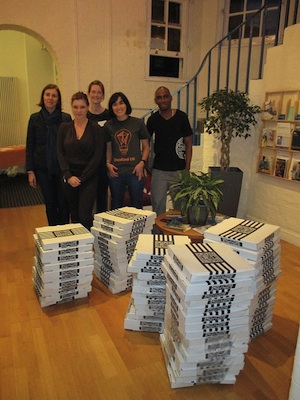 Finally, we are hugely grateful to all the volunteers who helped behind the scenes to make it such a successful event and especially to the volunteers who made their arms wobbly bringing us 70 pizzas!
For more stories, check out the Twitter summary and be sure to sign up for our Meetup group to learn about upcoming DataKind UK events. Many more firsts to come!