DataKind is very excited to join the Bay Area's Data-for-Good (DFG) community with the launch of the San Francisco Bay Area Chapter, DataKindSF! We are inspired and humbled by the opportunity to help build bridges between the vast community of data professionals and mission-driven organizations here in the San Francisco Bay Area.
To celebrate the launch of this Chapter, DataKindSF recently held two events: one hosted by General Assembly in San Francisco and another hosted by LinkedIn in the South Bay. We held two events to maximize our reach into the local data community and were thrilled to see that we accomplished this goal with overflowing attendance and enthusiasm at both!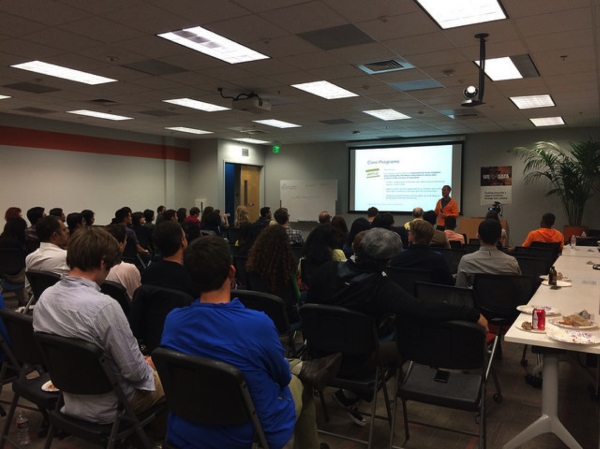 Our primary goal at these events was to bring together individuals and organizations who are already part of the local DFG community or who are interested in getting involved. We had fantastic representation from all parts of the community:
Roughly 130 data practitioners interested in volunteering

Representatives from at least 8 peer DFG organizations

Representatives from roughly 6 mission-driven organizations
We also provided an introduction to DataKind and our new Chapter, showcased some past projects, and provided information on how to get involved. In case you missed it, you can find the slides, photos, and video (coming soon) at the Meetup page for each event: San Francisco and South Bay.
Thank you to everyone that attended! We were blown away by the talent and dedication from everyone in the room and can't wait to see you all at the next event.
Speaking of which, our upcoming events will focus on preparing our volunteers and interested nonprofit partners to work together on projects. Get ready, Bay Area - in the next three months, we'll be holding a training session for volunteers interested in becoming Data Ambassadors, our volunteer leaders, for our first Project Accelerator and DataDive.
Interested in learning more? Subscribe to our Meetup page and our email list to be looped in get the latest news! We hope to see you as we continue to support the ever-growing Data-for-Good movement here in the Bay Area.