In early December, we packed our bags to host a DataDive with DataKind DC in partnership with the Annie E. Casey Foundation, an organization devoted to developing a brighter future for millions of children at risk of poor educational, economic, social and health outcomes. What made this DataDive special is that all the teams worked on challenges focused on protecting and improving the lives of at risk children and young adults, and in some cases they even used the same datasets. It was also unique in that teams were able to get input from youth experts and students from Code in the Schools, a nonprofit dedicated to teaching programming to students in Baltimore.
A huge thanks to the approximately 100 volunteers that came together ready to roll up their sleeves and dive in to the data, as well as our inspiring project champions that are doing such critical work to help support children at risk. We are also grateful to Allegheny County and the Philadelphia Youth Network for sharing their data and expertise throughout the whole process.
Helping Children in Foster Care in Allegheny County, Pennsylvania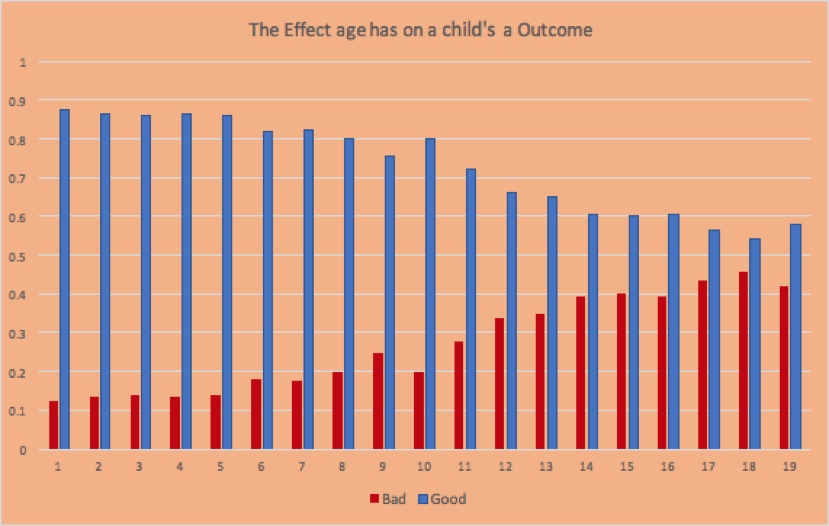 This visual shows the impact of a child's age on having a successful exit from the foster care system in Allegheny County, Pennsylvania. The visual was created by high school students from Code in the Schools that had never worked with data science before. With coaching from our DataKind DC Chapter Leaders, they learned onsite how to produce visualizations like this.
Children have more successful outcomes when they are in stable, loving families, but too often children in foster care move from home to home or are placed in group homes.  According to a report by the Annie E. Casey Foundation, children in group homes were more likely to test below or far below in basic English and mathematics, more likely to drop out of school and less likely to graduate from high school than children placed with families. Given these considerations, volunteers worked to optimize a child's potential for a successful initial placement.
When volunteer data scientists at the DataDive began to look at the data regarding movement between placements, it was important to incorporate several contextual factors. Sometimes children move for a "positive" reason, such as moving to live with a relative. When the reason is "negative," such as when a foster parent decides they can't handle a child's behavior and requests the child be moved, it's called a disruption. There are some moves in a grey area that are not clearly good or bad, such as when a child is moved from a traditional foster home to a therapeutic foster home due to a need for health-related treatment. No matter the reason, the moves can be traumatic for children and typically have a negative effect on a child's behavior. Minimizing such moves and increasing the likelihood that a child will be placed with a family rather than in a group home, is critical in providing children with a stable environment and increasing their chances for a successful exit from foster care.
Two teams set out to see how data on foster care placements in Allegheny County, which includes Pittsburgh, could help prevent mismatched foster placements and minimize moves overall for children in foster care.
Improving Foster Care Placements
Many children who enter into foster care are placed into homes based on immediacy of availability instead of fit, leading to a potential mismatch between children and their home environment. When a mismatch takes place, children may end up being moved repeatedly, with some placed in homes far away from their family, schools, community, courts and other support systems critical to their success.
Led by Data Ambassadors Janet Montgomery and Abhishek Sharma, a volunteer team of data scientists, and a small cohort of high school students studying coding, worked to uncover trends and insights about placements within the Allegheny County foster care system as a first step towards creating a matching placement algorithm and application for children entering the foster care system to improve the quality of initial placements.
The team discovered a number of insights including the impact a child's age has on successfully exiting the foster system, as shown above. In addition, they mapped where children were being removed from homes in Allegheny County compared to where facilities were located and looked at which types of foster facilities might be leading to more mismatches. This was an exploratory analysis and further investigation is needed, but the team's work provides a strong foundation for the future development of a matching algorithm. They successfully identified what characteristics could be used for predictive analytics to flag which children entering the system may be at greater risk for removal and therefore in need of extra support to succeed. Having better placements up front would mean more stability for children and hopefully a smoother return home, with their kin or legal guardians.
Reducing Foster Care Placement Moves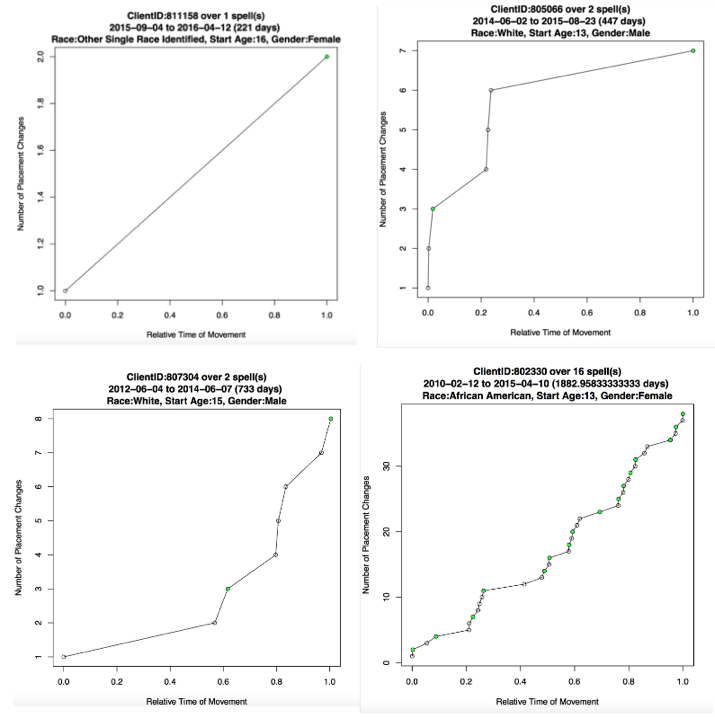 Each of these graphs shows the movement of a different child as they are given multiple placements with different families. The volunteer team identified four basic patterns that children follow represented above.
While some data is captured when a child gets moved from one placement to another, the reason for the move is not always documented, which makes it difficult to know when a child might be in need of extra support. For instance, disruptive moves might signal a mismatched placement, while positive moves might signal that a correct placement has been attained. In some cases, where an ideal placement isn't available, placing a child near critical support systems might be a suitable, if imperfect, alternative. If move types were better classified, caseworkers would have greater insight into how best to support children in foster care and potentially predict when a move is likely so they could intervene.
Data Ambassadors Ravi Solter and Sharang Kulkarni led a team to understand and potentially discover some overarching reasons that might explain disruptions. They also wanted to understand what might influence the likelihood a child will have a "positive exit" from foster care overall. The team dove in, analyzing and visualizing over 14,000 cases of children switching placements. They confirmed Allegheny County's hunch that a child's race and age indeed have a significant impact on whether or not they successfully exit foster care. Gender also has a significant impact, as they found that boys have a higher percentage of good placement exits than girls. Only about 50% of girls have good exits, versus almost 70% for boys (as shown with the graph below).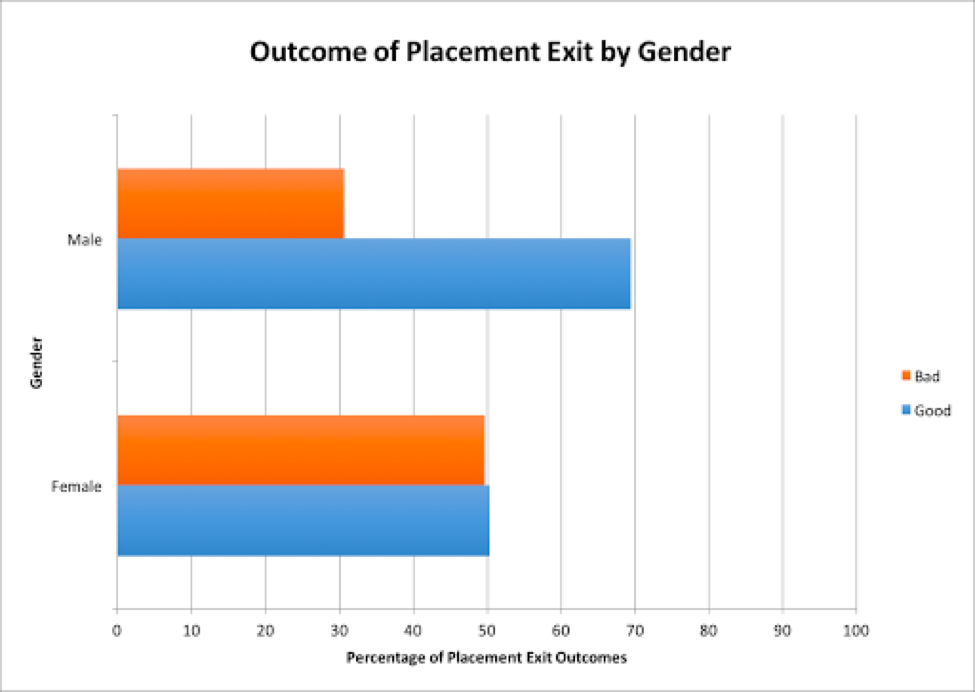 This graph shows the percentage of good and bad exit outcomes by gender.
This analysis is an important first step for caseworkers and child service agencies to better understand what factors make a disruption likelier so they can make better initial placements.
The Philadelphia Youth Network - Helping Young People Find Early Employment for a Strong Long-term Career
Studies have shown that youth who do not have early work experiences are more susceptible to unemployment in the future and are less likely to achieve higher levels of career attainment. The Philadelphia Youth Network (PYN) aggregates outcomes of youth enrolled in a variety of employment programs across different service providers. They wanted to understand what types of employment, wages, sectors, earnings, hours and other factors help young people achieve success and stability in their careers and what kinds of employment programs are best suited for different kinds of backgrounds.
Led by Data Ambassadors Nick Becker and Helen Wang, the team set out to analyze PYN's data to provide insight into which employment programs are successful overall, which are successful for some groups, and which factors are driving success. Jobs assigned to students in an employment program are typically designed to be 120 hours over the course of six weeks, with a student "passing" the program if they've worked a minimum 86 hours. The team found that the program was actually getting more successful over time.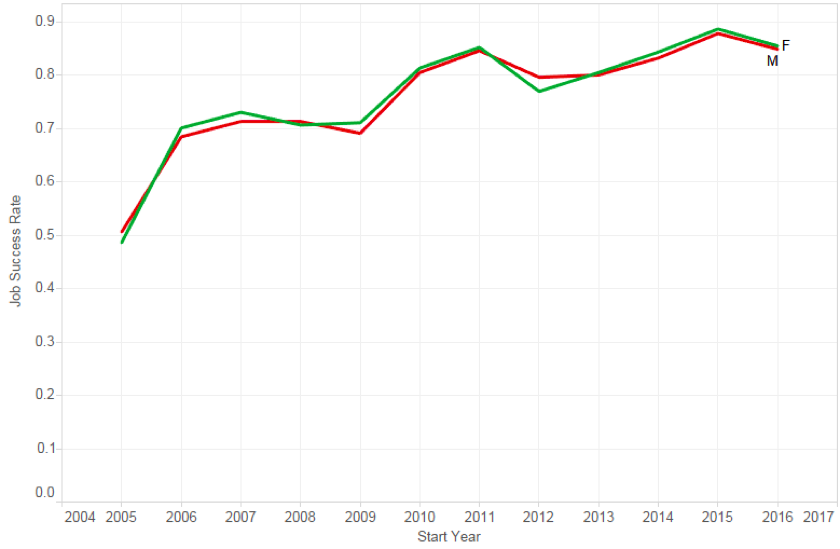 This graph shows the percentage of students in employment programs that have worked over 86 hours in their job assignments has been increasing. The program is becoming more successful over time.
The team also explored how demographics of the students, the length of job placement, what month the job starts and more were affecting success rates. They suggested future analysis on the students who don't repeat the program to understand if it's because they were unsuccessful or because they are going to school or found long-term employment. With better information about their employment programs, the Philadelphia Youth Network will be able to offer more targeted programs to help even more children achieve positive outcomes in their adult lives.
Annie E. Casey Foundation - Connecting Public Data Systems to Better Understand System-Involved Youth 
Youth who become part of the child welfare system are more likely to run away or become homeless; youth who age out of foster care face high risks of homelessness, and mental health issues are higher in homeless youth. While these issues are interconnected, youth service programs and agencies often do not share data with each other, making it difficult to view all aspects of a young person's risks for homelessness and other negative outcomes. Inspired by Allegheny County's integrated data system, Annie E. Casey Foundation wondered how might other municipalities adopt a similar integrated data system to show a more comprehensive picture of youth and help agencies better support youth involved in multiple systems.
Led by Data Ambassadors Greg Matthews and Aimee Barciauskas, the volunteer team aimed to explore the benefits of using an integrated data system for Allegheny County's Office of Child, Youth, and Families by describing the populations of children and youth who have received services from their Behavioral Health and Homelessness programs.
The team produced population profiles of young people that have used each service or both services and described the groups of individuals who reappear between and within the same services.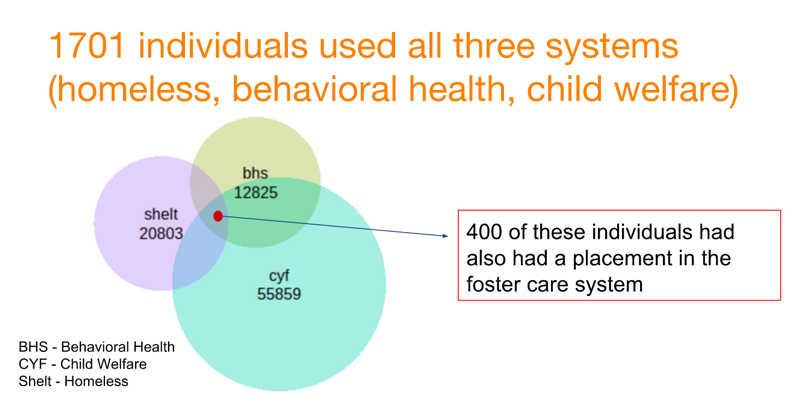 This diagram shows the overlap of services used by young people – "bhs" or Behavioral Health Services, "shelt" or Homeless Services and "cyf" or Child Welfare Services.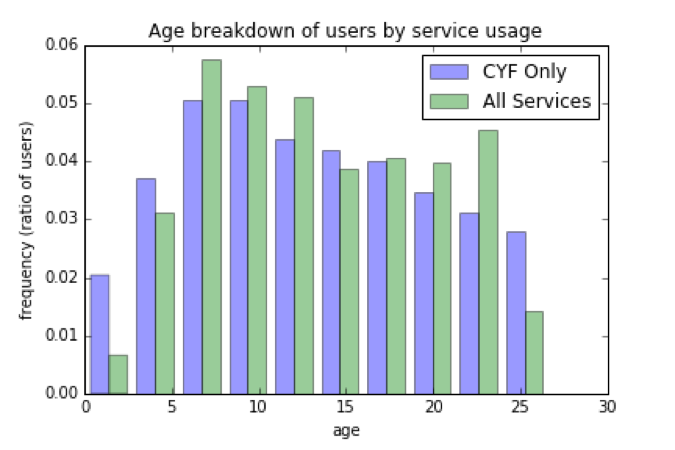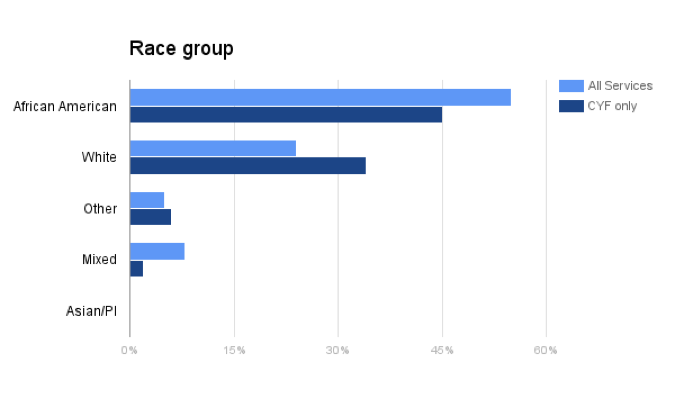 These two graphs show the demographics of youth clients who used all services vs. Child Welfare services only.
The team also created an interactive tool to describe the youth clients and mapped their pathways through the systems over time.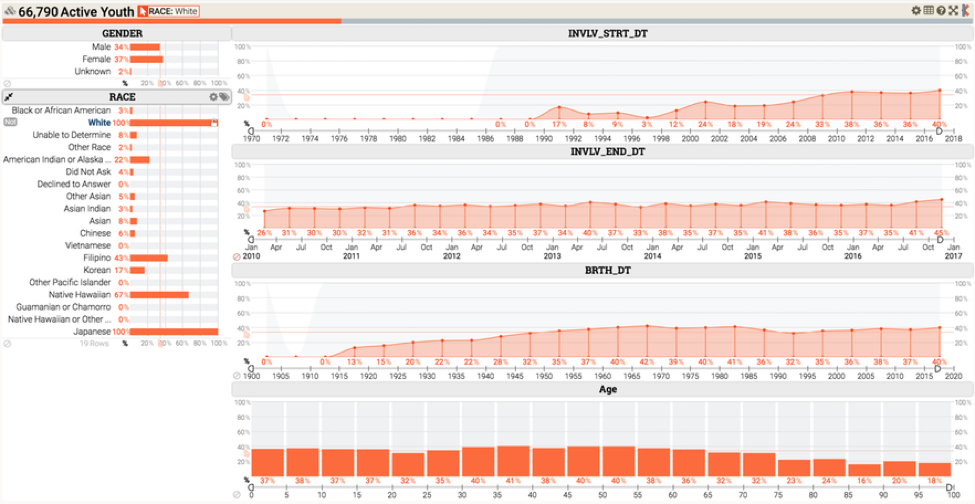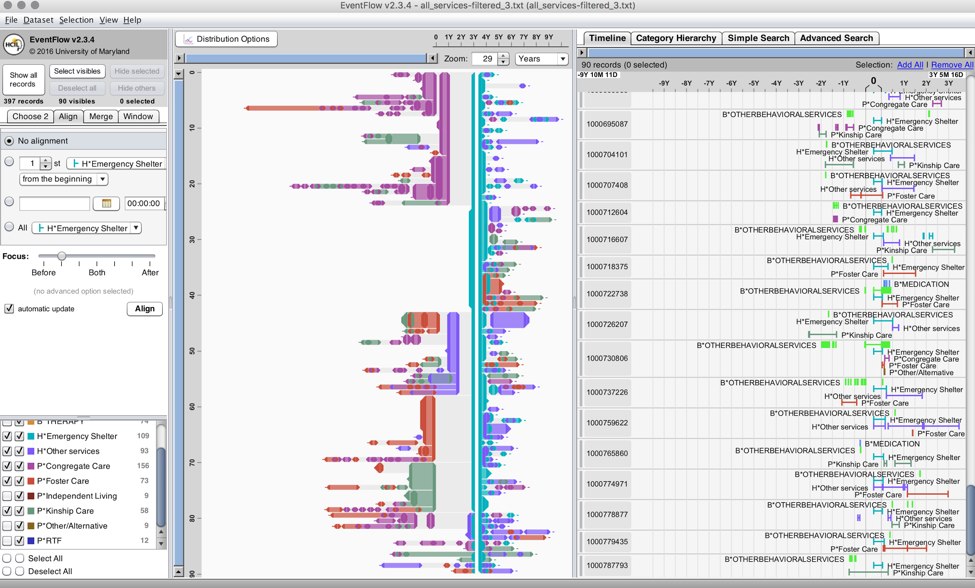 These are two screenshots from the interactive tool. The top presents demographic information on the youth clients. The bottom shows how youth clients move through the systems over time.
The team recommended that the Annie E. Casey Foundation leverage data visualization tools for deeper exploration and more consistently categorize behavioral health services to allow for more robust analysis in the future. The Foundation is hoping to ultimately persuade other jurisdictions to link their disparate data sources on youth in an integrated data system like Allegheny County's, allowing better monitoring of the risks that young people face and potentially improving targeted services to prevent disconnection.
Thank You!
Big thanks to all the volunteers that joined us for an inspiring weekend using data to support America's youth - especially those that drove down from New York to be there! We are also grateful to Allegheny County and the Philadelphia Youth Network for sharing their data and expertise throughout the whole process. And a special shout out to the youth experts and Code in the Schools' students that shared their wisdom and donated their time to give the teams' context and help inform their analysis. And, of course, a sincere thanks to the Annie E. Casey Foundation for their generous support to make the weekend possible and the expertise they offered from their many years dedicated to building a brighter future for young people. Collaborations like this that bring experts together across sectors, age and geography are exactly what make new solutions possible so we are grateful to everyone that joined us to make the weekend a success!