Note: This is a guest post by Abhay Bagai that originally appeared on concentra's blog Oct 9 2014.
Last weekend I attended and helped organise my first ever 'DataDive' and it proved to be one of the best experiences I have ever had.

DataDives are organised by a charity called DataKind, and are a great way of bringing data scientists and charities together. They help improve the quality, access to and understanding of data in the social sector, while giving data scientists a chance to flex their technical muscles and have a real social impact.

How does it work?
Before the event, the charities attending (in this case Citizen Advice Bureau (CAB), St Mungo's Broadway and North East Child Poverty Commission (NECPC) are given the opportunity to work with a small number of 'ambassadors' to identify what they want from the event, and what data challenges they need to overcome.

In NECPC's case, the charity I and two others were ambassadors for, their goal was to raise awareness of child poverty by bringing their data up to date and communicating that data to the public. So to prepare for the event we gathered as much data as we could from open sources. We also had anonymized CAB data because the first time, the charities attending were sharing data.

The actual event runs over the course of a weekend with an initial get together on the Friday evening. Participants attend presentations given by the charities and select the charity they would like to work with for the weekend. Starting from the Saturday, the teams go off to work on their projects alongside the charity, with a deadline of 12:30 on Sunday to present back on the work they have done. My experience of the event and the work with NECPC was one I won't forget for a while!

DataDiving with the North East Child Poverty Commission
On the evening of Friday October 3rd about 80 participants from a wide variety of backgrounds gathered in the Royal Statistical Society to attend presentations given by charity representative. After the three charity presentations we ended up with a team of around 20, ready and eager to start work on the Saturday.

9 AM Saturday we reconvened and after being treated to a delicious breakfast from FoodForGood, a charity organisation which aims to reinvent surplus food from restaurants and supermarkets, we split up into our three different charity groups.

There were two main goals decided by the NECPC representative:
Develop an interactive online data tool for child poverty indicators.
Establish a link between CAB data and child poverty data.
We created two different sub-groups with half the team concentrating on developing visualisations, and the other half devoting themselves completely to finding correlations between different data sources and child poverty.

Given my experience in BI, I ran the second sub group which was using excel, CSV files, R and a bespoke modelling tool to interrogate the data and create a predictive model for child poverty in the North East. After a whole day of discussions, development, lots of coffee and an order for 75 pizzas we clocked off at 22:00 with a survivor selfie!!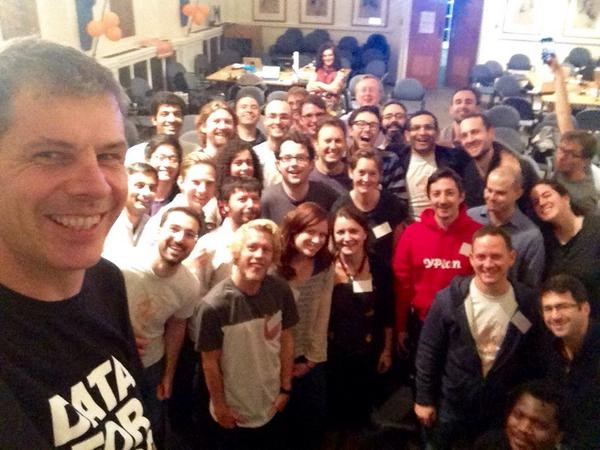 The next day was a race against the clock for our 12:30 deadline. But a few more coffees and some hard work, and we achieved some amazing things.
We established predictors of child poverty by finding a direct correlations between tax credit data and CAB data.
The visualisation team developed a Tableau dashboard, and web app to build awareness of child poverty in the North East. A live demo of the web app can be seen here: https://datakind-uk.github.io/child-poverty-commission-dashboard/
Set up a foundation and model applicable to child poverty across the whole of the UK.
While the project is not complete it is amazing how much can be achieved in a short time span by working in such a collaborative environment – see our final presentation below. Next steps for NECPC are to create more accurate predictors by gathering more data from CAB and further investigating tax credit data, while continuing to improve the web-app functionality and visualisations. I look forward with interest to seeing how their work progresses.

A great event all round and I thoroughly recommend coming along to the next one to meet some amazing people and do something with your data/developer skills which really has an impact.
 
Read More
Check out the full case study to learn more about this DataKind UK project!