In honor of National Volunteer Week, we're featuring DataCorps volunteers each day that donate their time and talents on long-term projects with social change organizations using data science to transform their work and their sector.
For the past few months, two DataCorps teams have been working with GlobalGiving and The Laura and John Arnold Foundation and they are nearly at the finish line! While we get the Gatorade buckets poised and prep the balloon drop, learn more about what makes these talented teams tick and what they're up to when they're not busy changing the world. (Hint - it might have something to do with mapping imaginary worlds and directing zombie movie blockbusters...) 
 
GlobalGiving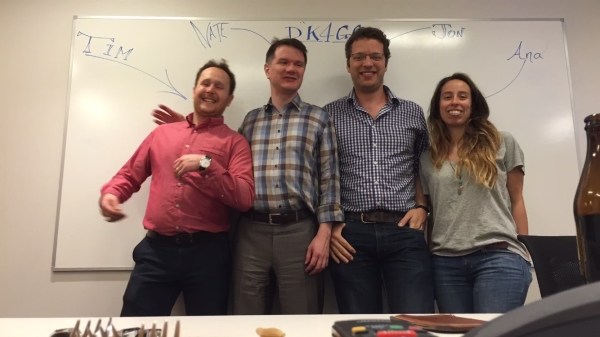 Tim Rich, Nate MacNamara, Jon Roberts, Ana Areias
"Our team of volunteer data ninjas has been an incredible resource for us at GlobalGiving. We're fortunate to have such a dedicated group in Jon, Ana, Tim, and Nate to help us think through some of our thorniest data problems. Their outside expertise has been especially useful for those of us already working on GlobalGiving's data by forcing us to question assumptions and reevaluate conventional wisdom. Thanks so much for all your hard work!"
~Nick Hamlin, Business Intelligence Analyst, GlobalGiving
The Work
With projects ranging from providing food and shelter to orphans in India to providing computers to Afghan girls, GlobalGiving is the first and largest global crowdfunding community for nonprofits. Since 2002, more than 400,000 donors have given $150+ million to more than 10,500 projects in 160 countries. GlobalGiving participated in our October Teradata Cares DataDive in Nashville to do initial analysis of their past fundraising campaigns or "projects" to determine what factors lead to projects being successfully funded.
The team then handed off their initial findings to a DataCorps team of volunteers for a multi-month project to optimize GlobalGiving's search ranking algorithm. By the end of the project, GlobalGiving will have a better understanding of which factors motivate donors to give, which will in turn be used to help organizations fundraise more effectively.

The Team
Jon Roberts - Data Ambassador
Jon used to study cosmic rays and dark matter. Now he studies what people are interested in on the internet in his day job running the Data Science team at About.com. In his spare time, Jon draws maps of imaginary worlds for books and games. 
Why volunteer with DataKind?
To help NGOs, and to help people interested in data science move forward. 

Be Jon's BFF

https://github.com/jonroberts , www.fantasticmaps.com, @fantasticmaps , @jproberts00
Ana Areias - Project Manager
Ana is a development economist working at the intersection of data science and public policy. Most recently, Ana coordinated research for Data-Pop Alliance, a Harvard-MIT-ODI project  exploring how to use Big Data for public good. She also does statistical consulting for international organizations such as the World Bank.
Why volunteer with DataKind?
Help NGOs become more data-driven, make new data geek friends and do good!

Be Ana's BFF
www.linkedin.com/in/aareias, @aareiass 
Tim Rich
Tim specialized in quantifying the unqunatifiable. When he is not hacking the Gibson he works as Director of Data Science for Publicis North America.
Why volunteer with DataKind?
To use our powers for good! 

Be Tim's BFF
https://www.linkedin.com/pub/tim-rich/31/543/ab4 
Nate MacNamara
Nate builds data analysis tools and applies them to various industries - mostly finance, but lately, brewing as well.  He currently works at Bloomberg LP where he spearheads the R&D department's Agile adoption initiative. 
Why volunteer with DataKind?
Because it's a blast to work together with great teammates to help others.

Be Nate's BFF
http://www.linkedin.com/in/natemcnamara
The Laura and John Arnold Foundation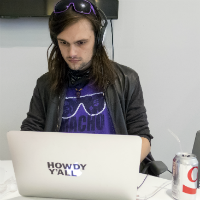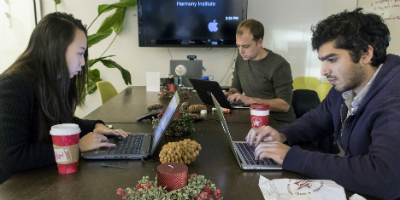 Timothy Faust, Michelle Lee, Richard Dunks, Arun Ahuja, Burton DeWilde (not pictured)
"The Laura and John Arnold Foundation has been honored to partner with the talented volunteers at DataKind. Together, we have worked to identify the ways in which data can be used to drive innovative solutions to some of the most pressing problems in the criminal justice system. We would like to extend our thanks to Burton, Tim, Arun, Michelle and Richard for all of their important contributions to this work!"
~Erica M. Gersowitz, Director of Criminal Justice, The Laura and John Arnold Foundation 
The Work
People who reenter the criminal justice system again and again, often for low-level crimes, cost the country millions of dollars in time and effort, but little is known about them. Without a clear understanding of who these repeat offenders are and what may be driving their recidivism, it is impossible to develop interventions that deal with the root of the issue rather than the symptoms.
The DataCorps team is working with the Laura and John Arnold Foundation to mine large criminal justice datasets, using modern machine learning algorithms and predictive analytics to find previously unknown correlations and patterns to understand the characteristics of repeat offenders. 

The Team
Burton DeWilde - Data Ambassador
Burton got a PhD in particle physics; on the side, he filmed and edited a physics-themed zombie movie. He currently works as a data scientist studying the social impact of narrative media.
Why volunteer with DataKind?
To meet people and do good.

Be Burton's BFF
http://bdewilde.github.io/, @bjdewilde
Timothy Faust - Project Manager
Timothy leaps back and forth between the tech sector and the grueling world of political campaigns. Currently, he's a data analyst at a healthcare company in New York, examining how people make decisions on their own health. He also runs a wrestling league in Austin, TX.
Why volunteer with DataKind?
Doing the work I like for a good purpose.

Be Tim's BFF
www.linkedin.com/in/faust, @crulge
Michelle Lee
Michelle currently works as a strategy and operations consultant at Deloitte. She grew up in 10 different countries, so she is used to traveling and living out of a suitcase. She studied Political Science and Symbolic Systems at Stanford University, in which her main concentrations were in Data Science, Decision-Making, and Rationality. She is also a certified French Wine Scholar and runs a wine club for consultants in Boston.
Why volunteer with DataKind?
I am a strong believer in DataKind's mission to harness the newly accessible power of data for the good. This is also an opportunity for me to keep up with new techniques in data science and learn from my brilliant teammates.