In honor of National Volunteer Week, we're featuring DataCorps volunteers each day that donate their time and talents on long-term projects with social change organizations using data science to transform their work and their sector.
Today, we're featuring two DataCorps teams that recently kicked off their projects with iCouldBe and Simpa Networks to help these organizations keep at-risk youth in the U.S. in school and increase access to affordable electricity in rural India. We're so excited for these projects to be off and running and can't wait to see what comes out of them!
 
iCouldBe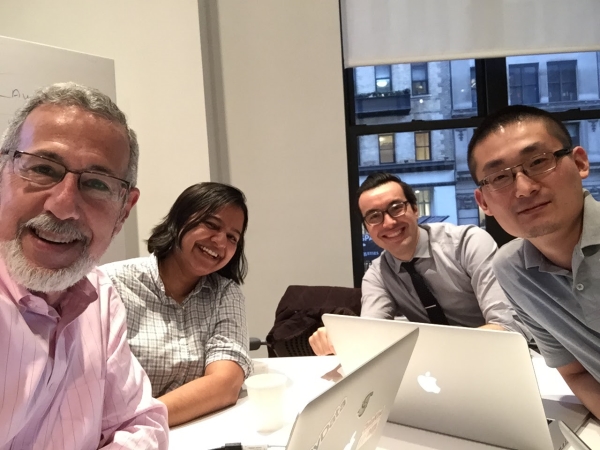 Peter Fleischman, Pooja Madan, Thomas Vincent, Matt Yin
"iCouldBe is thrilled to have the incredible data science expertise of Tom Vincent, Peter Fleischman, Pooja Madan, and Matt Yin on our DataCorps project. We're excited to work with this all-star team to analyze survey results, anonymous text interactions, and other key indicators to continuously improve our e-mentoring program. A big shout out and thank you to our DataKind volunteers for their enthusiasm and dedication!"
~Kate Schrauth, Executive Director, iCouldBe
The Work
Since 2000, iCouldBe's e-mentoring program has served over 19,000 at-risk middle and high school students, empowering teens to stay in school, plan for future careers, and achieve in life. Students from public high schools across the U.S., Canada, and Mexico, select their own mentors and work on e-mentoring activities that focus on academic success strategies, career exploration, and post-secondary educational and career planning.
Building on their initial work with DataKind at our Nashville DataDive, iCouldBe would like to utilize their 15 years worth of data to understand how to define successful mentorship interactions. They hope to use the findings to improve their program, curriculum, training and matching process, to better serve students in need of mentoring and to keep more students in school. 
 
The Team
Thomas Vincent - Data Ambassador
Tom currently holds the position of data scientist at Dow Jones, where he works primarily on problems associated to the Wall Street Journal. Prior to that, he was a postdoctoral associate in BioStatistics at Weill Cornell Medical College and completed a PhD in Statistics. He also has a very strong background in whiskey.
Why volunteer with DataKind?
To help organizations that may not have the resources necessary to leverage the power of the data they collect. Also, to help highlight the value of data analysis, and some of the powerful insights it can sometimes reveal.

Be Tom's BFF
www.linkedin.com/in/thomaslvincent 
Peter Fleischman - Project Manager
Peter recently retired from full time work.  He has been doing "data science" work in financial services and healthcare reimbursement since long before it got that name.  Most recently, he ran the hospital business office outsourcing unit for MedAssets.  Prior to that he was a management consultant, and before that, worked for ADP and Health Management Systems.  He has a BS in mathematics from MIT and an MBA from NYU. 
Why volunteer with DataKind?
I volunteered with Datakind for the opportunity to do good, while having the opportunity to learn and to work with smart people.

Be Peter's BFF
www.linkedin.com/in/peterfleischman
Pooja Madan
Pooja helps fight online crime by working on forensics problems that can make the plot for CSI Miami. She holds a Masters in Electrical Engineering, so naturally, she aspires to electrify the world of data science by using Python, Coffee, Instagram and Coffee.
Why volunteer with DataKind?
With DataKind, I get to meet the kind of people who like data and are kind to the people who share data with DataKind so that we can help them make sense of the data. 

Be Pooja's BFF
www.linkedin.com/in/mpooja
Matt Yin
Matt recently got his PhD in statistics and is currently a quantitative analyst at Google measuring the impact of online advertising and daydreaming about the future of media, marketing and business.
Why volunteer with DataKind?
To have an impact on the missions of non-profit organizations and (hopefully) find my own cause and mission. 

Be Matt's BFF
https://www.linkedin.com/in/matthewyin
Simpa Networks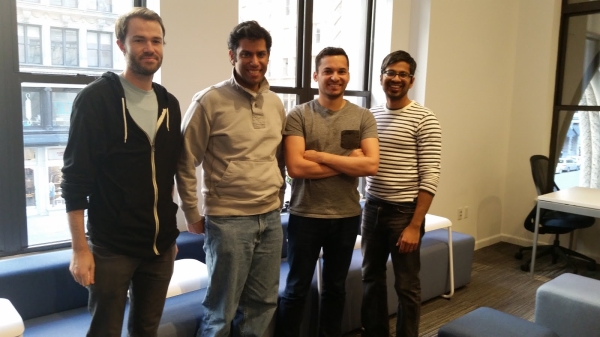 Hugo Gerard, Kush Varshney, Mark Simithraaratchy, Kamalesh Rao 
"Thank you for this great opportunity to work with your team. We're excited to use the data to help our organization provide solar energy to more families in rural India. We look forward to a long and fruitful partnership!"
~Priya Shah, Program Manager, Simpa Networks
The Work
Worldwide, approximately 1.6 billion people don't have access to electricity and another 1 billion have extremely unreliable access, leaving them dependent on kerosene lanterns and battery-powered flashlights for light. in many emerging markets, this same group earn less than $10/day, with up to 30% of their income allocated to inefficient and expensive means of accessing electricity. Simpa Networks is a technology company with a bold mission: to make modern energy simple, affordable, and accessible for everyone.  
In a project financially underwritten by MasterCard, DataCorps volunteers are using Simpa Networks' historical data on customer payment behavior and to predict which new applicants are likely to be a good fit for their model and able to successfully unlock the system. More customers successfully making payments means more families and households with reliable access to electricity they wouldn't have had otherwise.
 
The Team
Kush Varshney - Data Ambassador
At IBM Research, Kush Varshney applies data science and predictive analytics to workforce, salesforce, healthcare, and public affairs, and does academic research on the theory and methods of statistical signal processing and learning. 
Why volunteer with DataKind?
To meet people and do good.

Be Kush's BFF
http://krvarshney.github.io, @krvarshney

Mark Simithraaratchy - Project Manager
Mark Simithraaratchy is the Director of Web and Marketing Analytics at Coach Inc.  He's built his career by helping clients and companies leverage data through actionable insights and strategies.
Why volunteer with DataKind?
Datakind is a great intersection of fun, learning, and maximizing my ability to impact the world. 

Be Mark's BFF
www.linkedin.com/profile/view?id=12055161 
Kamalesh Rao
Kamalesh Rao is a North Carolina native who moved to New York City during the second term of Grover Cleveland.  He entered the family trade because he was not cool, talented or brave enough to attempt a career in something interesting or worthwhile like dance, parkour or accounting. He really likes to write about himself in third person.
Hugo Gerard
Hugo Gerard is an Initiative Coordinator at Innovations for Poverty Action (IPA). As part of the Global Financial Inclusion Initiative at IPA, he analyzes large telecommunication datasets to study the adoption and use of mobile money in developing countries. Hugo has also worked as a Research Economist at the Reserve Bank of Australia.
Why volunteer with DataKind?
To work with and learn from other top data scientists and to apply my skills to new projects.

Be Hugo's BFF
https://www.linkedin.com/profile/view?id=83154326