It's been exciting to see how social change organizations are finding innovative ways to communicate about their data, including the use of visualization.
For example, DataKind volunteers worked with DC Action for Children to help them map childhood poverty in Washington DC to better advocate for support while DataKind UK volunteers then reused some of the code from this project to help local charity Shooting Star Chase map where children were in need of hospice care so they could better target their services. 
FFunction, a Montreal-based data visualization studio, has been working with UNESCO Institute for Statistics (UIS) to create 2 recently launched interactive data visualizations to illustrate the factors that impact education for children in Sub-Saharan Africa: 
Out of School Children - View how gender, income, and location affect a child's education 
Left Behind- View how and why African girls struggle to obtain an education
In the world today, there are 58 million out of school children, and 43% of those children will never start attending school.  That is nearly 23 million children whom will never have the luxury of reading a book, tutorial, or blog post. Those are children that will never learn to write or do basic arithmetic.  Those children are #LeftBehind.
Sebastien Pierre, CEO of FFunction, says the Out of School Children visualization is more about exploring the data and drawing your own conclusions, while the Left Behind visualization tells the story of how girls in Sub-Saharan Africa are #LeftBehind when it comes to education. 
 
Out of School Children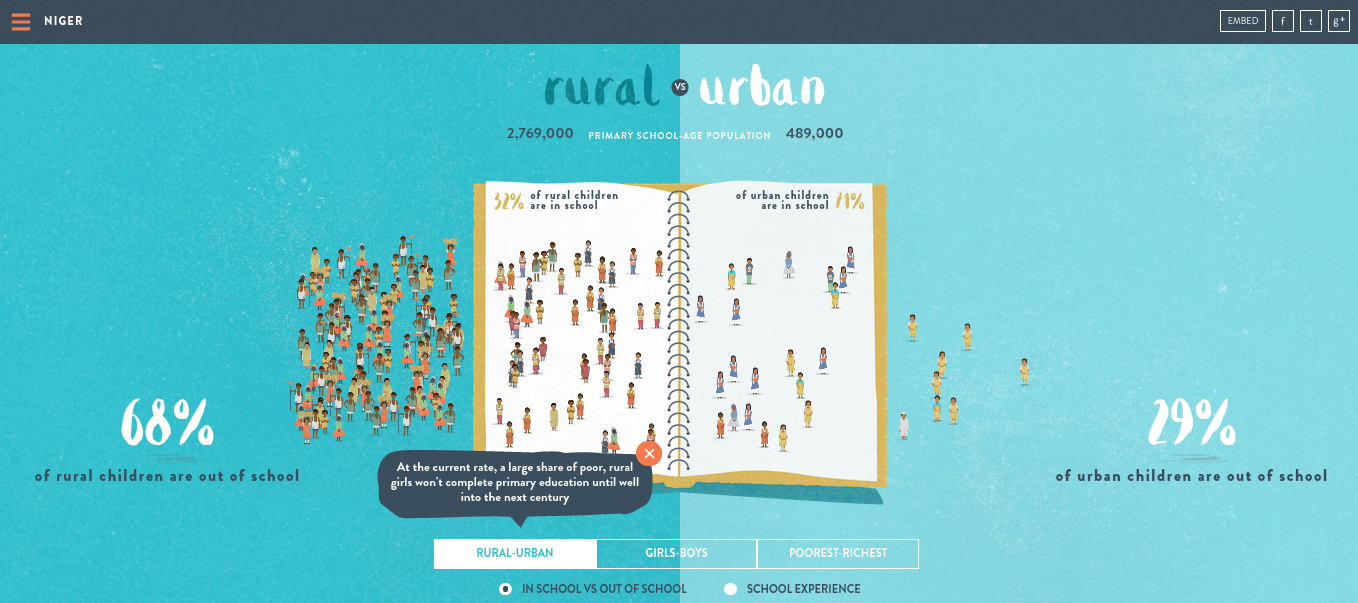 This data visualization displays the percentage of out of school children by country. After selecting a country, the results can be broken down by rural/urban, boys/girls, or rich/poor. It helps to highlight some of the education struggles of poor rural children.  The visualization is a companion to a joint report, Fixing the Broken Promise of Education for All, with UIS and UNICEF.  The report identifies some next steps for helping all children gain access to quality education.
 
Left Behind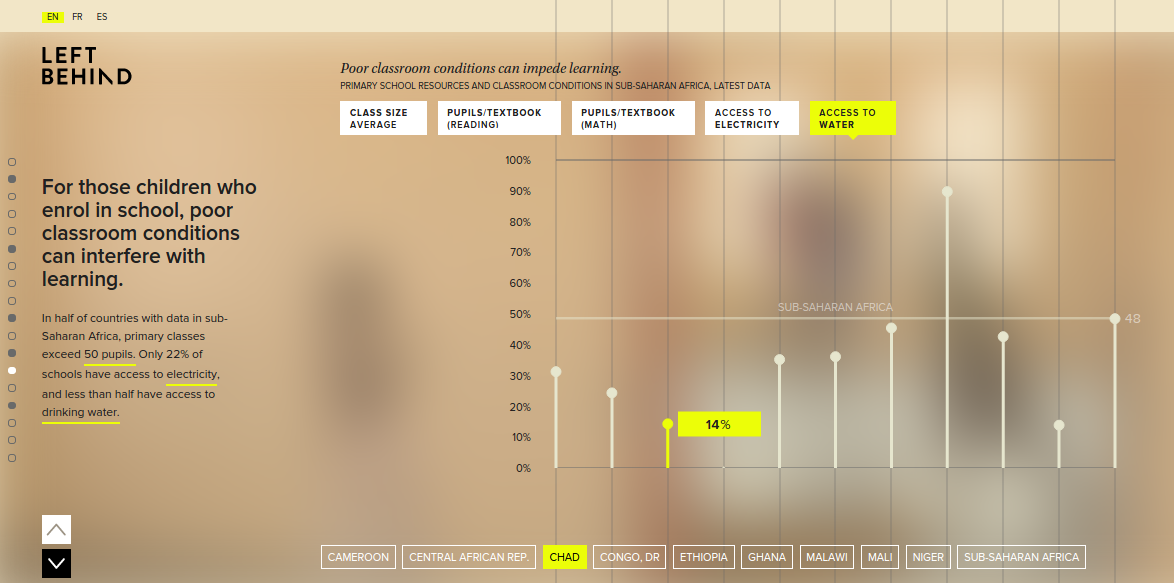 The Left Behind data visualization highlights the difficulty of the education situation for girls in Africa.  Girls lag behind boys in school attendance and duration. If you are one of the lucky girls attending school, you might only get 5 years.  Plus, the visualization explores many of the barriers girls face when attempting to receive an education.
Fortunately, the gender-gap is narrowing, but much work is still needed. In a few countries such as Tanzania, the number of girls in school slightly exceeds the number of boys in school.  


Highlights
Here are some of the more interesting numbers from the visualizations:
In Chad, only 45 girls attend school for every 100 boys attending school
Nearly 1/10 of the world's school-aged children do not attend school
Of the global illiterate population, ⅔ are women
Sub-Saharan Africa needs 3.9 million new teachers
In Niger, 69% of girls are out of school
Congo has an average class size of 107 students


Explore the Data!
All the data used to create the visualizations is freely available via the UIS API.  The documentation for the API is available at OECD Open Data API, and some sample API calls can be found on the UNESCO-API-Sample gist on Github. Dig in to explore!