Joy Robson shares how she started Data for Good Canada, an active community of data do-gooders, ahead of their Toronto DataThon this weekend!
Where to begin?  In the beginning, there was a 13-hour flight to Dubai, UAE.  And the current issue of The Economist.
I enjoy The Economist and used to subscribe to its jam-packed, weekly, print editions.  Somehow I used to find the time to actually read those issues as well.  However, at October 2012, I hadn't read through an entire issue in years.
But right then, I had a 13-hour flight to kill. Reading that whole issue was going to be easy!  And somewhere, near the very back, I came across a short blurb about some data scientists based in Brooklyn, NY who started something called "Data without Borders." They were in the midst of re-branding it to DataKind.  What was DataKind, I wondered.
The blurb then described their mission to use "data in the service of humanity."  Being a data scientist myself, I wondered if my own work had ever been "in the service of humanity," or simply at the mercy of corporate profits or government agendas.  
Save for some pro bono charity work that my previous employers had sponsored, in fact, yes, my work was always for corporate profits.  And that never seemed to bother me before.  I'm still kinda ok with it.
Awareness is the first step toward change, though. 
I turned to my husband and said, "I think I've fallen in love."  To which he replied, "What does that mean?" and I said, "I think I'm going to do irrational things with abandon, and make commitments to a hazy, intangible dream."
You know I've got a great husband because just the other day he was spotted wearing one of our "Keep Calm and Data (for good) Thon" t-shirts.  And this road less travelled isn't always smooth.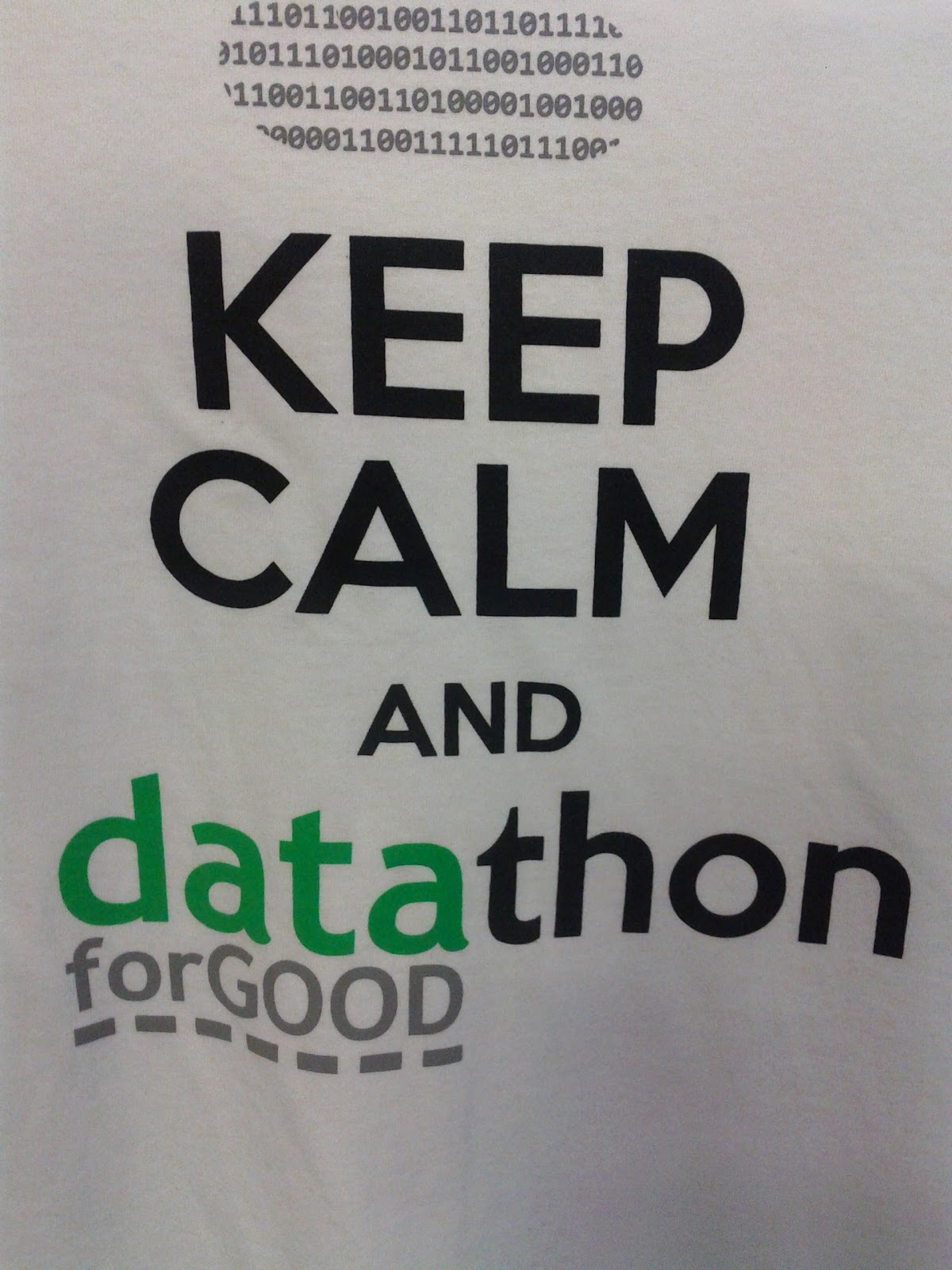 But the likeminded people in the global #data4good movement make it worth it.  No offence, previous colleagues, but working with people who are energetic continuous learners, blue sky altruistic dreamers and uber techies, is pretty much my professional dream come true.
So who are these people in Canada?  Naturally my co-founder in Toronto, Victor Anjos, deserves heaps of shout-outs, and so does our buddy in Calgary, Geoff Zakaib.  As if I could build this alone.  As if.  We look to Mr. Porway all the time for dynamic (and often hilarious) data-for-good thought leadership, and we absolutely rely on the amazing volunteers in our respective cities.  These talented people keep this thing moving forward.  Thank you.
And where are we now?  So grateful for the founding Canadian Not-for-Profits (NFPs) and Non-Government-Organizations (NGOs) who took a leap of faith on us during these early days – groups like The Sentinel Project, Cystic Fibrosis Canada, Samara Canada, Second Harvest Toronto, Commuter Challenge Calgary, Summerhill Impact and UNICEF Canada.  We're coming from different worlds yet we're finding the necessary common ground to do the data4good work.  2015 is all about keeping the lights on while we expand in to Ottawa, Montreal and Vancouver.  That's the dream, anyway. 
Interested in getting involved?
Toronto data do-gooders - join the Saturday Dec. 6th DataThon while spots are left! Or just join the Meetup group to learn about upcoming events.
Ottawa nonprofits and NGOs - join the local Meetup to get pro bono data science support!