Six DataDives in six months?!
Amazing, right? Don't even ask us how much pizza that equates to.
Wait - 19 social change organizations benefited from the work?
Yes - many new faces, some long-time friends, all truly inspiring.
And hundreds of skilled data volunteers showed up to help?
Mmm-hmm - including one eager do-gooder, U.S. Chief Data Scientist DJ Patil!
From DC to Dublin, from Leeds to Bangalore, from San Francisco to Singapore, hundreds of you lent your expertise and gave up your weekends to set some exciting wheels in motion. Together, you've harnessed the power of data science to fight global warming, stamp out corruption in Nigeria, address inequalities in Leeds and San Francisco, treat malnourished children in South Sudan, support civic engagement in Bangalore, prevent fires in the U.S. and much much more.
More than just a weekend
DataDives are marathon-style events where teams of volunteers rally together for a weekend to help social change organizations do initial data analysis, exploration, and prototyping. These high energy, exciting events show organizations how data science can advance their missions and show volunteers just how powerful their skills can be.
They are also much bigger than weekends.
There are weeks of preparation to scope the projects and prep the data followed by months of impact that ripple out after the weekend is over. And, they're often the start of a beautiful friendship. DataDives generate initial results and prototypes that often lead to long-term DataCorps projects or get spread across the network to solve a new problem.
Join us on a tour of DataDives around the world and read on for highlights below!
 
Highlights
DataKind Bangalore: March 21-22 2015
Partner Organizations = Digital Green, Janaagraha, Teach For India
While it was DataKind Bangalore's first DataDive, it was not their first time working with their partner organizations, as all three had participated in a Project Accelerator Night in January and also during a DataJam to wrangle and clean datasets. So much great work came out of the DataDive, Digital Green and Janaagraha are now exploring potential long-term DataCorps projects. Stay tuned for more from this beautiful friendship that is only just beginning!
DataKind San Francisco: March 28-29 2015
Partner Organizations = Mission Economic Development Agency (MEDA), San Francisco Health Improvement Partnership (SFHIP), TechSoup Global
With over 1000 Meetup members, it was no surprise that DataKind San Francisco attracted so many talented volunteers to its first DataDive. "I was shocked at how many deeply technical resources we had instantly at the event," said Steve Nagoski, Data Scientist at TechSoup Global in a video interview. "We were able to get a lot more done than we thought because we had so many talented people that came." See what else this talented group got done - read the full recap from Jesika Haria of Trifacta.
DataKind UK: April 17-19 2015
Partner Organizations = The Young Foundation, Volition, Voluntary Action Leeds
With a global network, solutions spread. DataKind UK, a DataDive power house, held its first event in Leeds in partnership with The Young Foundation, Leeds City Council and the Joseph Rowntree Foundation to tackle the structural causes of inequality in the city. All three charity teams came together to create a visualization tool that allows people to explore features of financial, young NEETs (Not in Education, Employment, or Training) and mental health inequality. But they did not recreate the wheel - they leveraged past work and repurposed code from a previous DataKind project in Washington DC - DC Action for Children's DataTools 2.0. Read more about the event in this recap from DataDive attendee, Andy Dickinson, and sign up for the next UK DataDive in London July 17-19.
DataKind Singapore: April 25-26 2015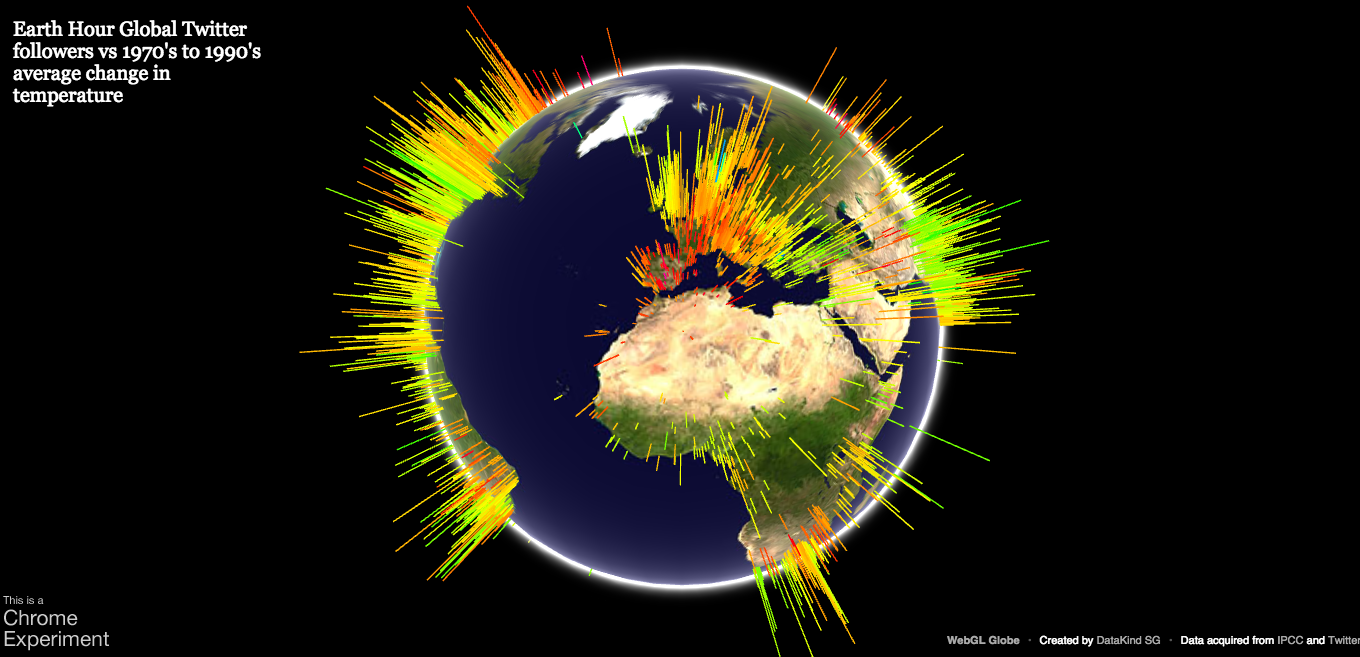 Partner Organizations = Earth Hour, Humanitarian Organization for Migration Economics (HOME)
Over 70 data volunteers from across Singapore (and even Malaysia!) showed up to DataKind Singapore's DataDive. One team worked with Earth Hour, a nonprofit that rallies the globe to fight global warming, to analyze thousands of tweets to identify key influencers in their supporter base as well as understand what their supporters care about. This will help them more effectively inspire people to take action. The team created this interactive visualization showing the distribution of Earth Hour's Twitter followers as a visual representation of Earth Hour's reach as a global movement. Dive into more detail in the full recap from Core Volunteer Yin Yee.

DataKind DC: May 8-9 2015
Partner Organizations = American Red Cross, DC Action for Children, Fair Labor Association, Not In My Country (NIMC)
You know your DataDive is off to a good start when it's being kicked off by the U.S. Chief Data Scientist himself. "Data science is a team sport," DJ Patil reminded the packed room of DataDivers during his opening speech. Indeed, DataKind DC brought together four fantastic teams, including some special guests like a potential future U.S. president (we called it first!) to some classy New Yorkers, DataKind Headquarters power duo Magdalen Sangiolo and Jeanne Brooks. Tim Vance from DC Action for Children beautifully echoed DJ's comment in his own recap of the event, explaining the importance of community in this work: "...these events bring people together to use their talents to engage social problems, not as individuals, but as members of a community. It is the connections between the volunteers and organizations that are formed over a common sense of civic service and a desire to change the world that are truly inspiring." Hear hear!
DataKind Dublin: May 16-17 2015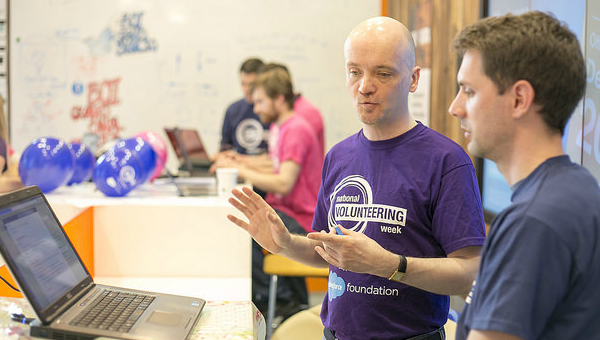 Partner Organizations = Childhood Development Initiative (CDI), Concern Worldwide, Mathletes Challenge, Volunteer Ireland
What better (and more meta) way to celebrate Ireland's National Volunteering Week than by volunteering at DataKind Dublin's second DataDive to help Volunteer Ireland use data to better connect its volunteers to meaningful and high impact opportunities? *MINDBLOWN* We know. We know. #metadata4good This compounding of volunteer power led to a fantastic event with with four amazing charity partners. Our own Jeanne Brooks, DataKind's Director of Global Communities, and the great Emma Prest from DataKind UK flew in for the weekend as well. Hear more about the volunteers' work in this video interview with Chapter Leaders Conor Duke and Jon Sedar and Jeanne.
And why is DataKind building a global community?
Because it takes more than data to change the world - it takes people. The right mix of people coming together in the right ways, sharing solutions, iterating and building long-term relationships. Our global network (aka YOU, dear reader) is what makes our work possible and allows us to make a global impact.
Thanks to all of you that made these DataDives a success - from our dedicated volunteers to our generous sponsors and, of course, our incredibly committed Chapter Leaders that made it all happen.
Finally, we just want to share our gratitude for our 19 incredible partner organizations that do tremendous work to address humanitarian challenges worldwide:
Stay tuned for more results from this global marathon of DataDives and sign up with your local Chapter to join us for the next one!
(Not near one of our Chapter locations? Check out our recent blog round up of other ways to get involved around the world.)