When you think of Anaheim, California and the "happiest place on earth," you may immediately picture the large mouse ears and crowds of tourists of Disneyland. However, for a weekend in October 2015, there was an even happier place (see image above) - the Elite Ballroom at the Anaheim Marriott.
Surprisingly, it was not the beige walls or groovy carpet that made this place so magical, but the sheer talent and enthusiasm from the over 40 data science volunteers that gathered to use their skills for good.
For the second year in a row, we were thrilled to join Teradata Cares to host a DataDive at the annual Teradata PARTNERS conference helping two organizations, KIPP LA and Taproot Foundation, use data science to advance their missions.
KIPP LA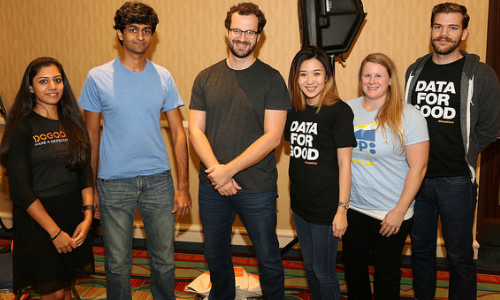 From left to right: Surbhi, Farrukh Ali, William High, Nicole Jeong, Christy Walker, Soren Bliefnick
One of the coolest things of the DataDive was seeing people with different experiences and areas of expertise come together and look at data that we've never looked at before. It was so wonderful seeing how excited everyone got around developing models that'll help get our KIPPsters to and through college!
~Nicole Jeong, KIPP LA
When a student enrolls in one of KIPP LA's elementary and middle schools, teachers and parents commit to helping that student scale the "mountain to and through college." Given KIPP LA's data on the over 6000 students and alumni it serves, could they better measure and predict a given student's level of "college readiness" to, in turn, better guide them on the path ahead?
See what the team discovered >
Taproot Foundation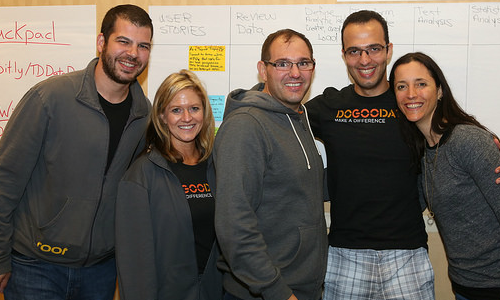 From left to right: Adam Ukman, Elisia Getts, Jack McCush, Mahdi Moqri, Alethea Hannemann
We collect a lot of data, and we love data – but truthfully, an ever-growing mountain of data can be difficult to break down, analyze, and utilize to inform our work. Tapping the expertise of the amazing data scientists at the DataDive, however, allowed us to turn that mountain into a treasure trove, where we accessed key, tangible insights to strengthen our organization and help us understand how to manage, collect, navigate, and utilize that data better moving forward.
~Alethea Hannemann, Taproot Foundation
At last year's Teradata PARTNERS DataDive, Data Ambassadors Elisia and Mahdi rocked the project they led with iCouldBe so we were thrilled to "get the band back together again" and have them lead this project with fellow Data Ambassador Jack McCush. We consider Taproot Foundation a bit of a kindred spirit (and celebrity!), as they truly pioneered rallying skilled professionals to deliver pro bono support to nonprofits. (We've stopped asking for their autograph, though sometimes still faint when we see them on street.) With 15 years of experience and over $150 million of pro bono delivered, Taproot Foundation wanted to see what they could learn from their tremendous track record to better set their engagements up for success and inform the design of their newest program, Taproot +. We were humbled to offer some pro bono data science support…. *swoon*
See what the team discovered >
Get Involved
Eager to use your skills to give back to a nonprofit near you? Check out our latest roundup of ways to get involved and grab your virtual Data4Good Kit for guidance on how to get started giving back.
Thank you to Teradata Cares for sponsoring and co-hosting yet another fantastic DataDive and thank you to all the DataDivers that gave their weekend to make data magic happen.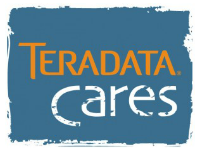 Read more stories