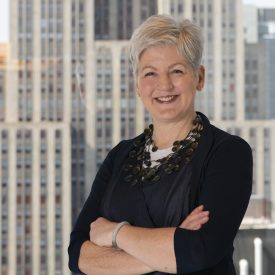 Lauren Woodman
Lauren has spent 25 years working at the intersection of technology, development, and policy. Most recently, she was the CEO of NetHope, a consortium of 60 of the largest global nonprofits and tech companies from 2014-2020. Before that, she held a variety of positions in the private sector, government, and the UN, including managing Microsoft's global education and government programs for more than a decade and serving as an executive at the Software and Information Industry Association. Currently, she is a member of the World Economic Forum's Board of Stewards for its Initiative on Digital Economy and its Trustworthy Data Collaboration. Lauren holds degrees from the Johns Hopkins School of Advanced International Studies and Smith College. She lives in Seattle with her partner and two daughters.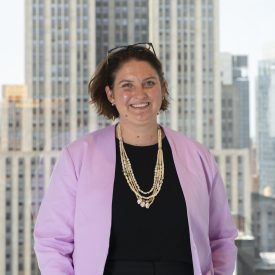 Caitlin Augustin
Vice President, Product & Programs
Caitlin is responsible for delivering DataKind's core offerings, ensuring that high quality, impactful data science interventions are created in partnership with social sector leaders. Prior to DataKind, Caitlin worked as a research scientist at a digital education company and as an engineering professor at NYU. A lifelong volunteer, she's engaged with Central Florida's nonprofit community and the organizer of the Orlando Lady Developers Meetup. Caitlin holds a BSIE and a PhD from the University of Miami. Go Canes!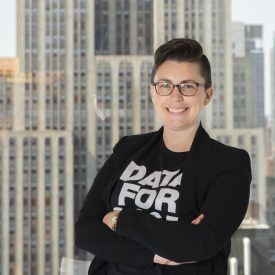 Gwen Hopkins
Vice President, Operations
Gwen is passionate about increasing the efficacy of social sector talent and organizations. Prior to becoming DataKind's Director, Operations, she held the same title at Global Health Corps (GHC), where she led the team responsible for IT, facilities, compliance, and global fellowship operations. During her time at GHC, Gwen supported the design and rollout of two strategic plans, improved processes and systems for increased impact and sustainability, and created a series of interventions to mitigate unconscious bias in fellow admissions. Previously, she worked in public health at the service delivery level, providing technical assistance to community clinics and public hospitals, and the policy level, coordinating civil society convenings with the Aspen Institute at conferences like the UN and WHO annual assemblies. Gwen started her career on Teach for America's recruitment team after receiving a B.A. in English from Trinity College, where she also minored in Women, Gender, & Sexuality.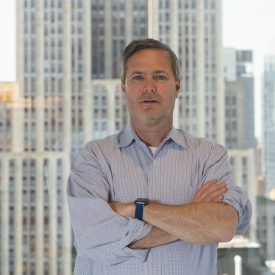 Larry Kilroy
Larry comes to DataKind with more than 20 years of experience at the intersection of technology strategy, organizational development, policy leadership, product management, and communications. He's a technical strategist with a history of developing globally-reaching, data-driven solutions that span environmental and social justice campaigns, international development and fair trade, and internal operations to enable top performance. Larry has been tapped as an advisor and speaker by iconic consumer brands and nonprofit organizations on data systems, security, and transparency. He often wonders how his BA in Medieval History from Washington College led to all of this, but he's grateful it did. Originally from the hills of western Massachusetts, Larry spends his free time searching for new sights, sounds, and tastes in his adopted home cities of Washington DC and New York.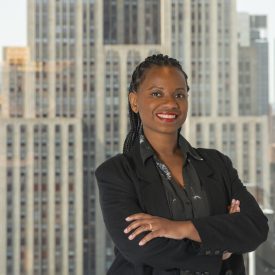 Shanna Lee
Senior Director, Community Engagement
Shanna works alongside empowered volunteers and communities toward a better world! She brings 12 years of volunteer engagement, community engagement, strategy, public health, and partnership experience to DataKind. She previously worked at the American Cancer Society, a volunteer based public health nonprofit organization fighting cancer. Her most recent work involved organizational strategic leadership within volunteer-staff partnership, health equity, skills-based volunteerism, training, and young professional engagement. She's a volunteer with Catchafire, a skills-based volunteer organization that connects volunteer professionals with nonprofits. Shanna holds a B.S. in Exercise Science and a M.S. in Food and Nutrition from Florida State University. In her spare time, you can find Shanna salsa dancing, listening to music, or traveling.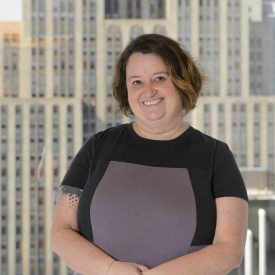 Jemilah Magnusson
Jemilah leads Datakind's creative vision for DataKind. She brings 20 years of experience amplifying the voices of global, mission-driven organizations in nonprofit, government, and public affairs. She is passionate about building and improving systems to advance quality of life for people in urban communities, and in equipping civil society with the powerful tools of data-driven storytelling. Prior to joining Datakind, Jemilah led communications at the Institute for Transportation & Development Policy, a global organization working to mitigate climate change with sustainable, equitable urban transport. She has also worked as an environmental journalist, and for one of the oldest community development organizations in the United States, Citizens Committee of New York City. She holds a BA in Communications from Lewis & Clark College, and an MS in Urban Affairs & Policy from CUNY Hunter College. Jemilah lives in New York City with her partner and dog.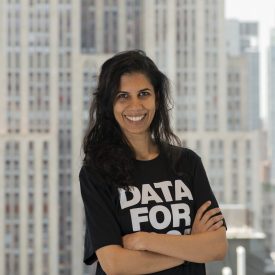 Mitali Ayyangar
Director, Product & Programs
Mitali brings her expertise in community engagement, program operations, and shared learning to DataKind, serving as the lead on DataKind's portfolio of projects in Community Health Work. Mitali has witnessed the power of data to be transformative and empowering of the most vulnerable in society. Working in humanitarian and international development for over a decade, and through extensive monitoring and evaluation consulting work, she's developed a profound appreciation for data-driven insights underpinning actionable, impactful decisions. Before joining DataKind, she served as program manager for community-based health and disease surveillance with Médecins Sans Frontières in Sierra Leone, Ethiopia and South Sudan. Mitali loves traveling the world (preferably on her motorcycle) and spending time with her family.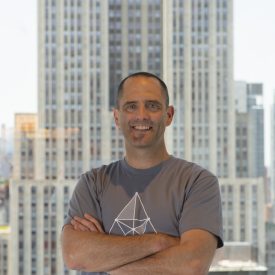 Matthew Harris
Matthew brings more than 20 years of experience in software development, product management, and data science leadership to DataKind, overseeing data product development and data science strategy. He strongly believes in ethical and equitable data science as a power for good in the world, and has an extensive DataKind track record as a volunteer data scientist and Data Ambassador. Naturally curious about the universe around us, he's carried out research developing computer models to study aurora and extrasolar planets and can often be found shivering outside on freezing Vermont winter nights taking photos of the stars. Matthew has a BSc in Astronomy and PhD in Physics from University College London.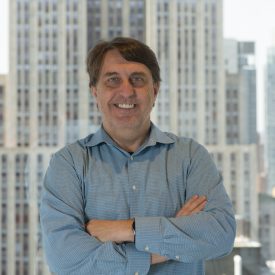 John Harnisher
John brings over 20 years of experience as a leader and researcher in the fields of data modeling, analytics, assessment, employee selection and organizational development to DataKind. Before joining DataKind, John led research, data science, machine learning and assessment functions for Kaplan, Talogy (previously PSI Caliper) and I/O solutions. John is a strong believer in developing and completing research and data science projects that positively impact society. John holds a BA in psychology from Connecticut College, a Master of Science in I/O Psychology from NYU and a PhD in Organizational Psychology from NYU.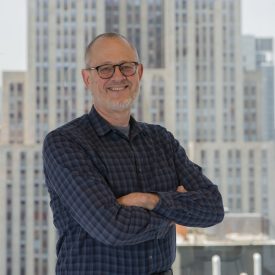 Quentin Walz
Constituent Engagement and Relations Lead
Quentin helps leading social sector innovators to amplify and accelerate their impact. He deftly aligns the goals of leading funders and philanthropists with those of DataKind's social sector partners, so that multiple missions can be addressed simultaneously. Quentin lives with his wife, Jenn, in Camden, Maine where they work, hike, sail, cook, volunteer, and play Settlers of Catan with friends. If you're ever on the Midcoast, give a shout and they'll help you discover one of the most beautiful seashores in the world.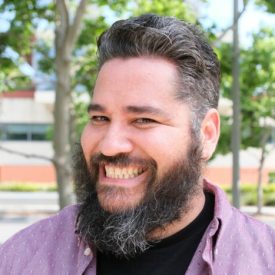 Chris Chenet
Chris comes to DataKind with over 10 years of experience encompassing technology strategy and implementation, product management, contract management, and quality assurance. As both a social worker and technologist, he has a track record of developing data-driven decision-making tools to drive social policy and funding, design and build quality assurance applications to streamline the work of case managers and administrators and develop B2B web-based solutions in the housing + homelessness space. His expertise extends to managing a billion-dollar contract portfolio for housing and homelessness and integrating systems design between housing and education programs for vulnerable youth and families. Chris has been a speaker at several national conventions, universities, and nonprofit and government organizations to share insights on data systems, service design, data equity, and product management. Chris holds a BSW in Social Work and a Master's in Public Administration. Born and raised in Los Angeles, Chris has a strong connection to his community. During his free time, he enjoys attending pop culture conventions and exploring new places to eat and going to arcades with his family.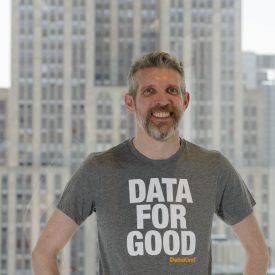 Dave Parry
Senior Manager, Partnerships
Hailing from the UK, Dave previously worked in British politics focused on voting statistics and fundraising before serving as Chief of Staff to a senior politician. He then spent two years in Paris working in the research department of an investment company and as an English Teacher before moving to New York.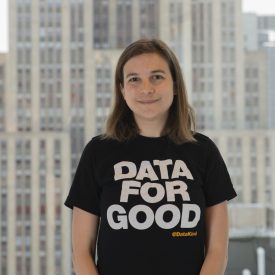 Caroline Charrow
Senior Manager, Community Programs
Caroline loves building communities of passionate people working towards a more equitable world. She comes to DataKind with over a decade of experience connecting geographically dispersed staff and volunteers at Teach For America and Khan Academy, and has seen firsthand the impact that building relationships and sharing knowledge across networks can have on empowering people to take local actions that combine into a global movement. Caroline holds dual B.S. degrees in Brain & Cognitive Science and Anthropology from MIT and an M.S.Ed. in Science Education from Lehman College. Caroline lives in the Bay Area, and outside of work she enjoys reading, baking, and exploring local parks with her toddler.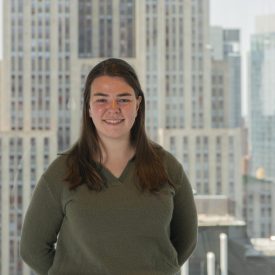 Rachel Ford
Senior Manager, Product & Programs
Rachel brings her experience in project management, partnerships, and social impact to DataKind, and she serves as the Project Manager for DataKind's Economic Resilience projects. She previously worked at Ideas Beyond Borders, where she developed and managed the organization's educational content platform and translation skills training programs for students seeking economic opportunity. She also has experience working in international human rights advocacy and events management. Rachel holds a B.A. in Middle East Studies from Barnard College of Columbia University. In her free time, she enjoys biking around New York City, volunteering at Planned Parenthood, and eating croissants.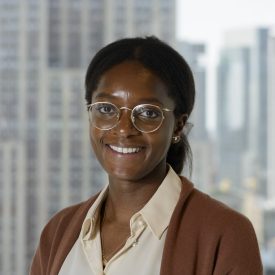 Mignonne Fowlis
Senior Manager, Product & Programs
Mignonne brings her experience in project management and program design, monitoring, evaluation and learning from the UN, NGO and private sectors. Before joining DataKind, she worked on humanitarian, gender equality and development projects, including community-based strategies to deliver community health, gender-based violence and forced displacement services. Mignonne is an advocate of leveraging data to guide evidence-based decision making and collaborating with communities to build solutions. She holds an MA in Human Rights from Columbia University and a BA in Philosophy and Politics from the University of Manchester. In her free time, Mignonne enjoys gardening, biking, and traveling to new destinations.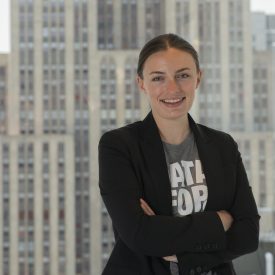 Sophia Harms
Senior Manager, Technology
Having come to technology through software support and from community organizing, Sophia is uniquely user-focused. Her work is rooted in the belief that technology does the greatest good for the greatest number when it is widely accessible and easily usable. Before joining DataKind, she worked with political and nonprofit organizations to find creative answers to CRM and digital engagement needs. Earlier in her career, she ran data-driven field campaigns for voting rights. Sophia is originally from the Flint Hills of Kansas where the grass grows tall and the rule "do no harm" runs deep. In her free time, she enjoys hiking and reading.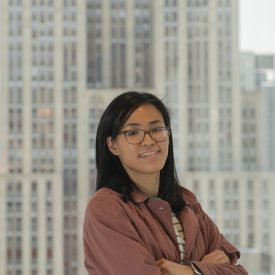 Becky Moy
Manager, Executive Office & Special Projects
Becky leads in strengthening the structure and operations of the Executive Office and Board, provides administrative support to our CEO and manages various special projects. Prior to joining DataKind, Becky was a National Office Volunteer at Huntington's Disease Society of America. In her free time, she enjoys traveling, trying new recipes and writing calligraphy. Becky graduated from Hunter College with a major in Psychology and double-minor in Economics and Media Studies. Fun fact: Becky is a triplet, the middle one!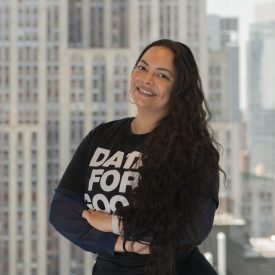 Nelsa Peña
Senior Manager, People Operations
Nelsa comes to DataKind with over ten years of human resources experience mainly in the nonprofit sector. In her most recent role, she was the Manager of HR and Administration at Affiliates Risk Management Services (ARMS), a nonprofit that helps Planned Parenthood Affiliates across the country reduce risk and enhance patient safety. Nelsa has a strong passion for equity and inclusion, which is present in the work she does in HR. She holds a BBA and a MPA—both with a concentration in Human Resources and Personnel Management—from Bernard Baruch College. Nelsa enjoys traveling, hiking, and spending time with her family.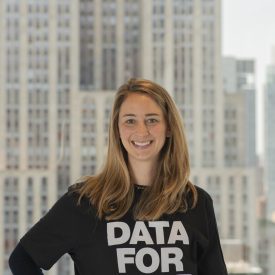 Mallory Sheff
Senior Manager, Product & Programs
Hailing from both France and the U.S., Mallory has been working in health and social impact for over a decade across countries -- South Africa, Kenya, Ghana, and Tanzania -- and time zones. She has leveraged her international expertise and cross-cultural knowledge to collaborate with experts in academia, policy, and nonprofit organizations, bridging the gap between resources and the populations who need them. Mallory applies systems thinking and data driven decision-making to all the work that she does, celebrating complexity as a key component of projects rooted in the real world. Mallory holds an MPH in Epidemiology from Columbia University's Mailman School of Public Health and a BA in International Development Studies from The George Washington University.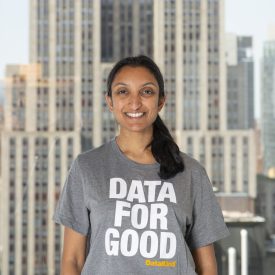 Naeha Vora
Senior Manager, Program Operations
Naeha is an experienced project manager and systems thinker with a passion for optimizing tools and processes to improve organizational impact. Prior to joining DataKind, she was the Admissions and Operations Manager at Global Health Corps where she managed the recruitment and selection process for the global fellowship program, and led database management and improvement efforts. She holds a B.A. in International Development with a minor in Arabic from The George Washington University. Naeha lives in New York City, and enjoys traveling, dancing, and trying new dessert shops.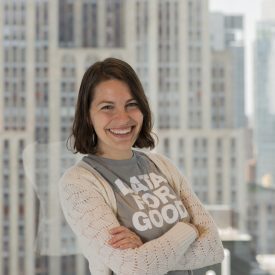 Rachel Wells
Senior Manager, Community
Rachel codifies processes, ensures all projects are executed with the highest quality standards, and creates structures to facilitate experimentation and sharing of learnings. Before joining the team, she was a DataKind volunteer, passionate about data science for social good. She has worked at IBM as a Data Scientist and at Innovations for Poverty Action in poverty measurement, capacity building, and research and data support. She was a Baylor University Scholar with a concentration in Mathematics. Rachel lives in Washington, DC, where she enjoys long walks on the Anacostia River Trail.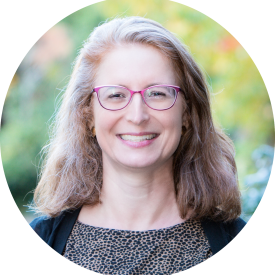 Elizabeth Grossman
Microsoft, Expert in strategy, design, and execution of cross-sector collaborations with civic impact
At Microsoft, Elizabeth focused on partnerships that connected programs, policy, and data/technology to strengthen cities and communities. Previously, she worked on technology, research, and science policy at the U.S. House of Representatives and the National Academy of Sciences. Elizabeth's B.A. is from Swarthmore College and her M.S. and Ph.D. are in Computational Physics from the University of Chicago.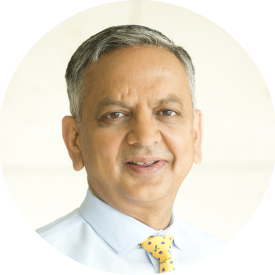 Rohit Chauhan
Executive Vice President for Artificial Intelligence at Mastercard
Prior to his current role, Rohit led the Data & Analytics function for the organization. He joined Mastercard in 2006 from M&T Bank where he was leading the Retail Risk Management function. Rohit holds a Bachelor of Engineering degree from Government Engineering College, Jabalpur, India; a MS in Computer Science and an MBA from State University of New York at Buffalo. ​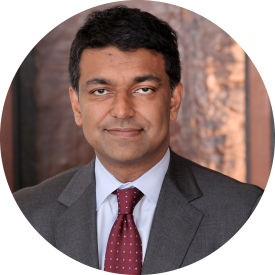 Zia Khan
VP Innovation, The Rockefeller Foundation
Zia oversees the development of solutions that transform people's lives through innovative finance, data, technology, and science. He sits on a number of boards and advisory committees helping organizations achieve social impact at scale. Prior to joining The Rockefeller Foundation, Zia was a management consultant advising leaders on strategy and organizational performance. He holds a B.S. from Cornell University and M.S. and Ph.D. from Stanford University.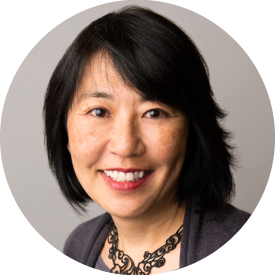 Mari Kuraishi
President, Jesse Ball duPont Fund
Prior to heading up the duPont Fund, Mari Co-Founded GlobalGiving with Dennis Whittle, and served as President until 2018. In 2011, Mari was named one of Foreign Policy's top 100 Global Thinkers for "crowdsourcing worldsaving." Before GlobalGiving, she worked at the World Bank where she managed and created some of the Bank's most innovative loans. She's currently on the boards of Candid, DataKind, GlobalGiving, and the Cummer Museum. In addition to her native Japanese, Mari also speaks Russian, Italian, and French. She has an undergraduate degree in history from Harvard University and did graduate work in Russian and Japanese history and politics at Harvard and Georgetown Universities. Mari also completed the Advanced Management Program at Harvard Business School.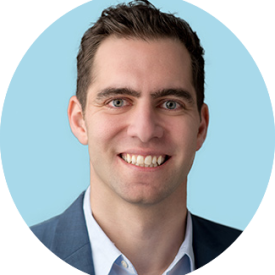 Joh Sotsky
Strategic Impact and Learning Director, the Overdeck Family Foundation
As the Strategic Impact and Learning Director at the Overdeck Family Foundation, Jon leads impact measurement, research, learning, and the Data for Action grants portfolio. He's spent his career advancing effectiveness in the social sector through data-driven strategy and learning. He previously was the Director of Strategy and Assessment at the Knight Foundation where he guided strategy, research, and evaluation across its funding for journalism, civic innovation, and the arts. Prior to that, Jon was a consultant at Mission Measurement where he advised corporate and private funders as well as education nonprofits on program strategy and measurement. He graduated magna cum laude from Cornell University with a B.S. degree in Applied Economics & Management. Jon enjoys traveling, improv comedy, the Giants (sometimes), and spending time with his wife and two daughters.