Earlier this fall during our "Best Month Ever," we were thrilled to be back at our third Teradata PARTNERS conference with Teradata Cares, this time rallying attendees for an entire day dedicated to using data science for good.
Co-hosted by rockstars of Atlanta's Data for Good scene like Data Science for Social Good Atlanta and South Big Data Hub, this event was designed for talented data do-gooders to come together, share learnings and give back.
We were also thrilled to get to welcome four local Atlanta nonprofits:
After a morning spent mixing and mingling with attendees and exploring posters showing data science for good in action, we broke into teams for an afternoon Project Accelerator. These brainstorming sessions are designed to help organizations take the first steps toward a successful data science project by bringing together a round table of data science experts to provide quick advice and data consulting.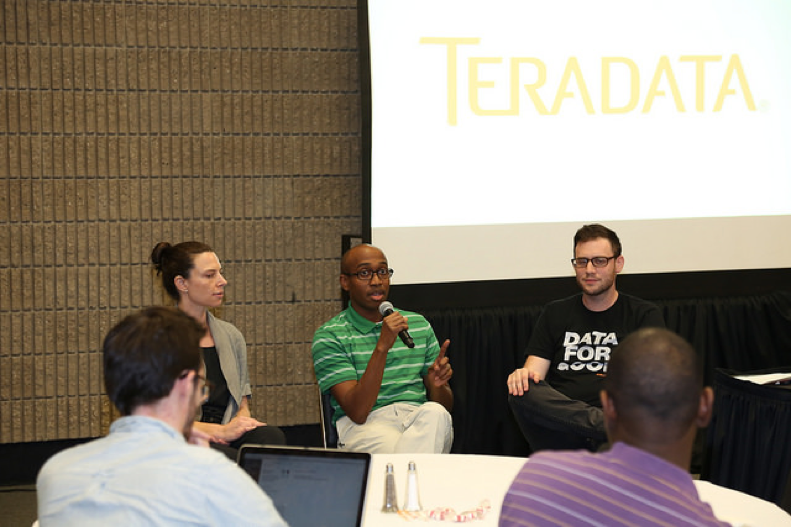 Southern Education Foundation wanted to know how they might use data to draw attention to the challenges that arise when failing public schools are taken over by the state or charter schools and leave out students with special needs in the process. Community Bucket was interested in understanding what kind of data it should be collecting to better understand its impact and connect its community of do-gooders. Across the room, Lost-N-Found Youth was looking for advice on how to consolidate five years of data into a single system to make reporting easier. And last but not least, Atlanta Mobile Market wanted to understand how their markets can best serve their visitors by looking at things like demographics and satisfaction levels.
The teams asked probing questions to talk through each organization's needs and ended with a set of recommendations. This eliciting of needs is actually a huge first step in an organization's data science journey and hopefully will just be the start of a beautiful friendship between DataKind and the other local partners like like Data Science for Social Good Atlanta and South Big Data Hub.
A huge thanks to all those that attended and spent the day applying their skills for good and big thanks to our nonprofit partners that shared their expertise with us about the important work they're doing in their communities.
Interested in giving back? Check out our latest Get Involved Roundup to see what volunteer opportunities are out there looking to apply their data skills for good.