Post by Emma Prest, General Manager of DataKind UK
This year OKFest took place in a former brewery in Berlin bringing together over 1,000 people from across the globe (great to see much more diversity than last year's OKCon!). Everyone there had one thing in common: a belief that open data can make the world a more transparent and more accountable place.
This year's event put more emphasis on how people are using open data to speak truth to power, not just openness for the sake of it. One of the keynotes by Patrick Alley from Global Witness talked about how they used open data to reveal the web of collusion between powerful corporations and states.
It was also good to see that not everyone has drunk the open data Kool-Aid. There was a healthy amount of critique with session titles like, 'Can open data go wrong?', 'Hands-on anonymisation and risk control' and 'Privacy considerations for data publishers.'
The session, "Ground-up Open Data Intermediaries – Who? Where? How?," got me thinking about whether we, at DataKind, are an open data intermediary. The presenters were all part of the Open Data Research Network looking at who's helping citizens to use open data in the Global South. They used the term, "intermediary," to describe the people or organisations that act as the link between the supply of data and the users of data. This can include everyone from international media to traditional chiefs. These intermediaries add value to the data by analysing, curating and presenting it and are therefore able to shape the supply of data. While DataKind doesn't focus just on open data, we undoubtedly help others, generally in the charity sector, to understand and use the data they have.
DataKind UK took part in the session called, "How to teach open data." I teamed up with Robert Lehmann from Open Tech School to lead discussions on how to organise tech and data workshops. We shared our tips and tricks from running these kinds of events like having one trainer to every three participants for hands-on workshop and keeping an ideas "parking lot" to make sure everyone's voice is heard and questions noted down without derailing the training.
There was also time for fun and service! Restart Project's session on e-waste got participants to roll up their sleeves and get their hands greasy, opening up and tearing apart gadgets to understand the local and global dynamics of e-waste.  And what conference is complete without a little karaoke?  Well, in this case, people dabbled in political karaoke, or Politioke, where you read aloud politicians' speeches (much more entertaining than it may sound).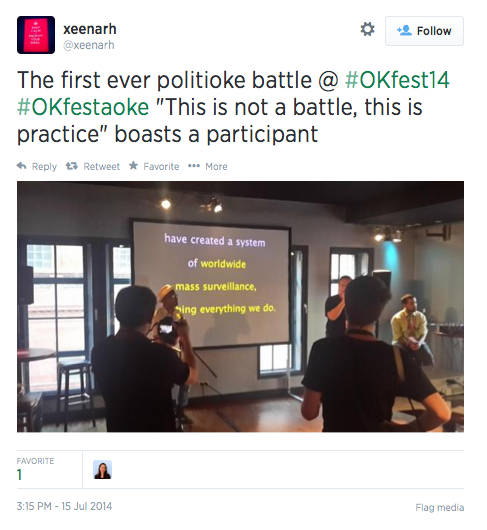 All in all, a busy two days! If you'd like to find out more about the event, the engine room liveblogged a number of the sessions!  If you were there, share your favorite highlights below!  If you're in the UK, sign up to volunteer or receive updates on our upcoming events!